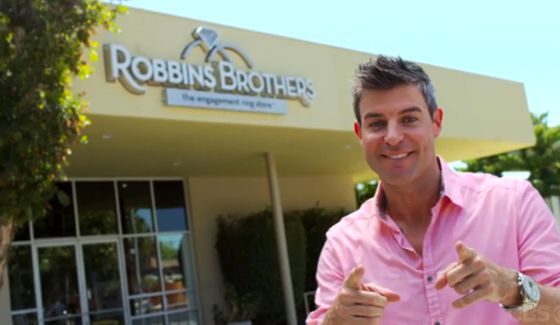 Yesterday we learned that Jeff & Jordan are engaged after a surprise visit to the Big Brother 16 house where Jeff Schroeder popped the question to his long time girlfriend, Jordan Lloyd. But other than a few glances we didn't have an up-close few of the ring. Now we do.
click images to see full-size view
CBS released a video of Jeff going to the jeweler to pick up Jordan's ring just a few days before he gave it to her. Jeff says he's very nervous when he goes to pick up the ring and jokes that there's no turning back now, but not that he'd want to.
Check out the zoomed in shots of Jeff getting the big diamond ring for Jordan. It's huge! I'm thinking the jeweler helped out here in exchange for some promotional time through CBS. Nothing wrong with that as I'm sure Jordan would agree!
What do you all think? Did Jeff make a good pick for his newly minted fiancee?
click images to see full-size view