Jason Roy became the latest Big Brother 17 victim last night when the votes he needed came up short and he was Backdoor'd out of the game he loved when the expected plan fell apart around him.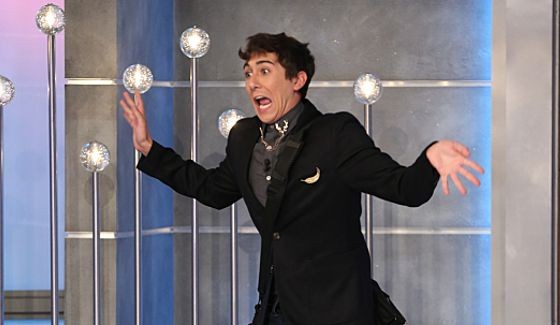 Now on the outside just a few weeks shy of Jury we got to talk with Jason about his experience as a Big Brother historian, his final days in the game, and what he hopes to see happen next.
Check out Jason's fan Q&A from his Big Brother After Dark appearance with Pop after his eviction:

Jason became the biggest blindside of the season this week. Was that a badge of honor or a cheap shot by the other side?
Jason Roy: It was a little bit of both. It was an honor that to know that I am such a threat that they can't even give me a moment's notice, but it is a cheap shot to really think that out of all these big muscular guys and all these strong chicks that backdooring me is like shooting fish in a barrel.
The "Gay Glue" strategy was part of Jason's plan heading in to Big Brother 17. Did it work out like he had hoped?
Jason: Nooo. When I got in there I realized half these damn chicks are crazy. I'm not going to try and band these chicks together for nothing. I was just finding my one or two girls that I knew I could trust. To combine the people on complete opposite ends, it would have never worked. I had to pick the girls I trusted and rolled with them.
Had Jason survived the eviction vote this week and gone on to win Head of Household, who would he have targeted?
Jason: I would have either Clay and Shelli, but if I had survived last night it would have probably been because of them. So I would have really scumbagged them and put them up. Or my main target would have been Austin and a twin or maybe putting up the twins together and backdoor'ing Austin.
Knowing James had won HoH and is now targeting Clay & Shelli, what did he think of that move for James?
Jason: It's a good strategy. Although I think leaving the three headed monster of Liz, Julia, and Austin is not necessarily smart, but to take out the couples is smart.
When Operation Save Jason went in to effect it started out strong, but then there was a lot of sleeping in that plan. What was his strategy there?
Jason: If you're up there after the Veto has been used then you know you're dead in the water. I knew the cards were stacked against me and I knew the people whose votes I'd need were the ones who helped get me up there in the first place.

I definitely knew I a hard sell to these people. I did not want to sell too early. We watched Jeff walk around and sell it for three days and people were so tired by the end of hearing it. I wanted to make sure when I approached people it was more at the last minute instead of harassing them for three days.
Two weeks ago Vanessa had suggested she couldn't nominate Audrey based on LGBT status. Did he consider calling out Vanessa for going against that stance with him?
Jason: Exactly. I thought about this as well. Apparently it was okay for her to do to a gay guy. I decided to leave that one alone. Even then that was a ridiculous thing. Everyone goes in there to be a person. It does not matter what your background is, what's your race, what's your creed, what's your sexual orientation.

So I think it was ridiculous of her in the first place to say that was her reason to not put Audrey up. Then it'd ridiculous for me to try and pull that card out. There's a gay guy in there every season and he's not going to win just because he's the gay guy.
When Jason found out about the twin twist he did exactly what every Big Brother fan out here would do: he told everyone he saw! Looking back, how does Jason wish he had handled that information?