Nominations are in for the first post-Battle of the Block week on Big Brother 17. That means there are just two nominees from the start this week and only once chance to save their Big Brother lives.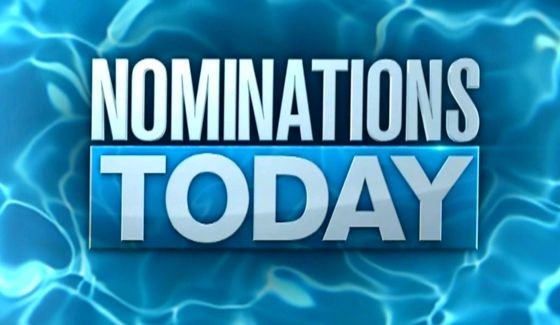 The Head of Household competition overnight set things up for a lot of drama as the power has shifted and we've been promised a lot of excitement (well for us at least) and plenty of tension.
Big Brother 17 Week 6 Nominations:
James nominated: Clay & Shelli
Yes, the big power couple is on the Block despite their best efforts last week to push John and Becky as the biggest duo threat in the house. I know, it sounds funny even just writing that.
Flashback to 3:54 PM BBT 7/31 as Clay cradles Shelli in his arms. He's furious with James calling him a "piece of s**t." Shelli starts to blame Austin and says this is all his fault. Then she's blaming Vanessa. Speak of the devil, Vanessa walks over. Vanessa is upset. Why? Shelli didn't hug her after the Ceremony. No hug?? What a monster! Oh it's on.
Shelli starts getting pissed off and raising her tone as Vanessa starts to sniffle tear but that changes to anger when Clay blames Vanessa's decision to renom Jason. That pisses Vanessa off who feels Jason was a group decision. (Yes, Shelli was a big part of Austin not getting BD'd.)
Overnight James had considered going after Shelli via Backdoor with Liz/Austin going up then thought about Vanessa/Liz. Then early this morning he told Meg that it made no sense to use pawns anymore with the death of BotB (woohoo!) so he went "straight for the jugular." These were his new best option nomination plans and he stuck to it.
Do you think Shelli is regretting going back on her support for the BD Austin? Now she and Clay will have one shot to save themselves or if they're really lucky someone else might get the Veto and then take one down as well. But wait! Vanessa, Austin, and the twins are angry at Clay and Shelli which means they might not help either off the Block! The Feeds are on FIRE right now. You've gotta watch this.
Good times ahead on the Feeds! Grab your Free Trial to watch the next week for free then keep it for $5.99/month. That's 20 cents a day for 24/7 access to Feeds content. Silly cheap.