Big Brother 17's James Huling and Meg Maley are back on TV with Pop's "Easiest Game Show Ever" which sounds like it might be more up the alley of these former Big Brother Houseguests as long as the questions aren't "who can you trust?" *Zing!*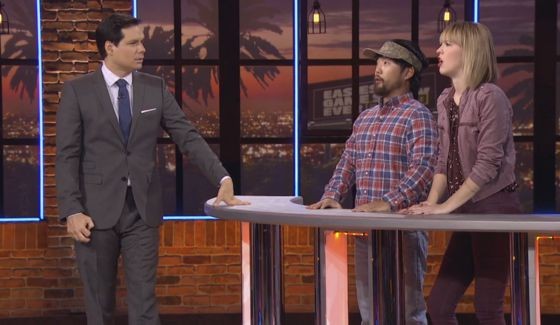 Pop is debuting the new show tonight (January 22nd) at 9/8c and we've got a sneak peek at the pair in action along with the host, always awesome Michael Ian Black, who knows how to ask the tough questions. Check out the clip below with James voicing his confidence in their chances:
twitter-tweet" lang="en">

#BB17's @AsianJamesBB17 & @MegMaley test their pop-culture on #EasiestGameShowEver TMRW 9P/8c on @PopTV. https://t.co/7OTRqmExBS

— Pop (@PopTV) January 22, 2016
Pop describes the game as a True/False series of twenty question with the pair talking through their answers and changing things along the way. I'm not sure there'd be a better pair from BB17 to work together and give this a go and before you say the Nolan twins I'd say "Sigmund & Freud". I kid, I kid.
click images to see full-size views
Check out James & Meg tonight on Pop and let me know what you think. They've got a chance at $100,000 which would be a nice little bonus to James' $25K America's Fav winnings.