Big Brother 17's Meg Maley is throwing together a Meet & Greet this weekend in New York City as part of a fundraiser for The Arthritis Foundation that includes a lot of familiar faces from recent seasons.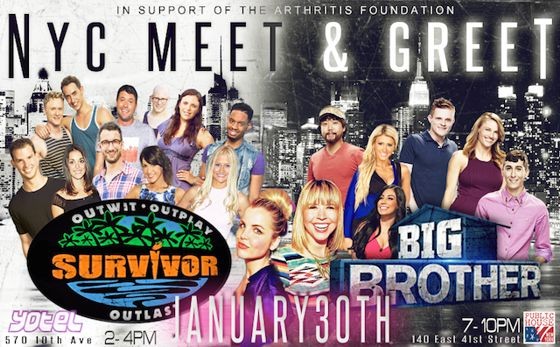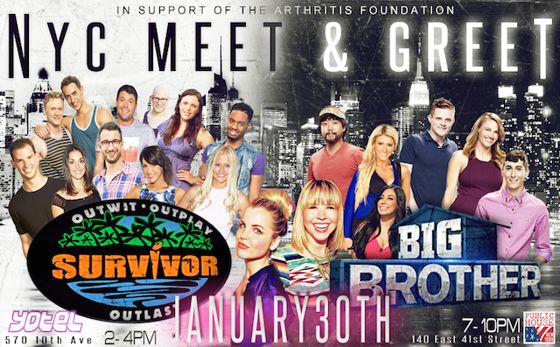 Meg is working alongside her Survivor contestant friend Andrea Boehlke to host a combo event for both Survivor and Big Brother fans this Saturday, January 30, 2016. You'll be able to catch up with BB17 Houseguests including James Huling, Becky Burgess, John McGuire, Jackie Ibarra, Jason Roy, Audrey Middleton, and of course Meg Maley. Plus, there will be a lot of Survivor castaways too.
Details from their event page:
On January 30th, Big Brother meets Survivor in NYC! Meg Maley and Andrea Boehlke are teaming up to throw a Meet and Greet for fans in Manhattan in support of The Arthritis Foundation.

We invite you to come party with the cast from 7-10pm at the Public House, with drink specials all night…
Looks like Meg & Andrea also pulled together some past Big Brother Houseguests including Cody Calafiore, Adam Poch, Eric Stein, Amanda Zuckerman, Enzo Palumbo, and Andy Herren.
The daytime "family friendly" meet and greet is sold out, but as of now there are still tickets to the night time event for 21+ so you can get in for some good times. If you can't make it but want to donate to the cause then there's an option for that too.
Proceeds and donations will be going to the Arthritis Foundation, leading the fight for the arthritis community. With more than 50 million Americans with arthritis, and 300,000 of them children, the arthritis foundation works to not only find better treatments and a cure but also to provide resources, access to optimal care, and a way to connect with others.
The nighttime event is being held at the Public House at 140 East 41st St, New York, NY 10017. If any of you get out there to attend then we want to see lots of pictures! Have fun and enjoy because before too long we'll have a new Big Brother 18 cast to be watching this summer!