In a brand new twist for Big Brother, the Season 16 Head of Household role has been doubled up with two HGs winning the coveted position each week before a final battle to decide the true power. But how will those two HoHs be decided each week?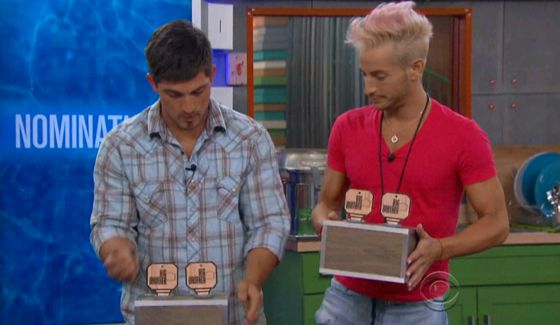 Last week's premiere episodes delivered two separate Head of Household competitions which made it a simple, but rather interesting and different experience for us and the Houseguests. Now we're approaching the second week of comps and everyone, inside and outside the house, are questioning how it'll happen this time.
While it's possible there could be two separate HoH comps one after another, ie. Round 1 with 14 HGs and Round 2 with 13 HGs, that seems too timely and expensive for set up and tear down unless the comps were basic Q&As (A or B).
Alternate options to our double crown arrangement on Big Brother 16 could include an extension of the typical "last man standing" comp where it's simply "last two HGs standing" in an endurance comp. Sure, it's possible, but I wouldn't expect another hang-on endurance comp just yet. Maybe later on this season though.
Another possibility, and one suggested by HGs this week, would be pairs. There will be an even number of HGs competing this week after one eviction and one outgoing HoH left on the sidelines which would make a lot of sense. Yes, the temporary HoH who was dethroned during Battle of the Block will get to compete in the following week's new HoH comp.
With an even number the HGs could be paired up and set to compete in something like the bbq sauce race last season. In that case two players won, Jeremy and Aaryn, but they had to pick between them them on who get the power. No down-select would be required like last season.
Next week pairs will be off the board so we'll get another chance at something new and different yet again. Gotta hand it to production, this season has kept us guessing and the HGs surprised which is a good achievement after so many seasons.
What do you think will happen for tonight's Double HoH competition? Share your thoughts!