Big Brother Live Feeds & All Access are running at full speed and thanks to CBS there will be a lot more ways to watch and platforms to support your round the clock Feedster living. Don't worry, we're not here to judge.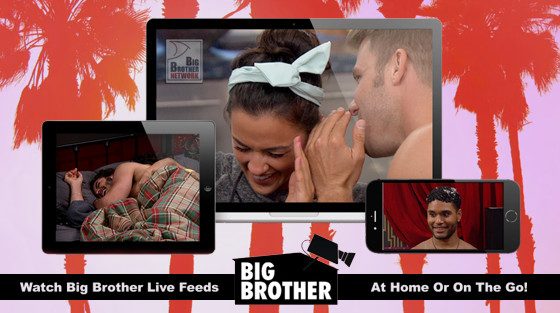 We'll be firing up our All Access Live Feed starting on Wednesday, June 28th to get our first glimpse of the BB19 Houseguest goodness as they move in and get the new season rolling. When things do finally kick off you'll have plenty of options to get your fill of the Feeds.
CBS announced this preseason that you'll be to watch your Live Feeds subscription (get the Free Trial now) on your computer, tablet, smartphone, Roku players, Chromecast, Apple TV, Android TV, Amazon Fire TV, Xbox One/360, and even the coconut radio from Gilligan's Island. (Editor's note: Don't try that last one at home.) Here's how to get started on several of those options.
First step for all of these methods is to get signed up for All Access with Live Feeds ($5.99/month). Doing so through links and banners at fan sites, including this one, helps that site (again, like this one) by generating a referral credit for us from CBS. That referral helps pay the bills, puts food on the table, kids through college, and all sorts of things. Best part is that it costs you nothing extra at all to do. So THANK YOU in advance for your support!


Try Live Feeds 1 Week Free! Only $5.99 per month thereafter. Sign-up now.
Reminder that along with your Feeds you'll get access to 600+ past episodes of Big Brother with every past season in their archives and ready for viewing. Of course there are plenty of other CBS shows both current and legacy, but who has time for that with Big Brother on, right?!
How to Watch Big Brother Live Feeds on your Computer:
Once you've signed up for All Access, which now includes your Big Brother Feeds, you can sign-in at cbs.com and navigate to the Big Brother section then click on the Live Feeds menu option to launch the viewer. From there you can pick the four different cameras, quad-cam view, archive footage to rewind and watch what you missed, and extra content as well.
How to Watch Big Brother Live Feeds on your Smartphone or Tablet:
Similar to viewing on your computer, either navigate to cbs.com/bigbrother for a link to launch the CBS mobile app or simply start that app to get your Feeds rolling. If you've got our Big Brother App then click the Live Feeds menu option to get that going as well.
The press release mentions you'll be able to watch the Feeds using your mobile browser which awesomely let our own Big Brother App connect to your All Access account and view your Feeds directly inside the app. Unfortunately that method was recently disrupted as CBS is currently forcing your mobile browser to open their own app. Hopefully that'll change.
If you're having trouble with your tablet or phone and it doesn't meet the requirements for the CBS App then you can download the free Puffin browser (iOS and Android) then login normally to your CBS account and it will behave like a desktop/laptop browser viewing the Feeds.


How to Watch Big Brother Live Feeds on your Roku player:
Along with your Feeds subscription you'll need a Roku device or enabled TV. I'm using the Roku streaming stick (Amazon), the cheapest of the Roku device options, and it works very well.
Visit the Roku website and add the CBS All Access channel to your device. Then turn on your Roku device, navigate to the All Access channel, select Shows, find Big Brother and then start your Feeds. Voila!
How to Watch Big Brother Live Feeds on your Apple TV:
Scroll through the Apple TV home view to find the CBS app rather than a specific All Access one as they're combined and goes by a different name for Apple's use. At the top you'll find the Shows menu option then scroll down a few rows for Big Brother.
How to Watch Big Brother Live Feeds on your Chromecast:
Sign in to All Access on your computer or Android device then navigate to cbs.com/bigbrother, get things running for your Feeds, then activate the cast feature to send your browser's content to your Chromecast device.
How to Watch Big Brother Live Feeds on your Xbox 360 & Xbox One:
This method now works on both Xbox One and Xbox 360. To use this platform go to your dashboard view, find Movies & TV, then "Get your TV app" to add the CBS All Access app to the "My Video Apps" section. Click that All Access app and get started.
As for the Android TV & Amazon Fire TV, I do not have access to provide steps, but if anyone out there does then please feel free to share details and I can update this post here
You have a LOT of options this season for watching Big Brother Live Feeds and things are silly cheap at just $5.99 month when it used to cost up to $15/month. If you're not sure about using the Feeds I can tell you that there's no comparison to having them and not when it comes to the full Big Brother experience. There's always the Free Trial to check out if you want to kick the tires before buying.


Try 1 Week Free! Only $5.99 per month thereafter. Sign-up now.