This week in my All Access Flashback series we've moved on to Big Brother 2 season premiere which is really the start of Big Brother US as we now know it. Watch this episode and all of Big Brother 2 now.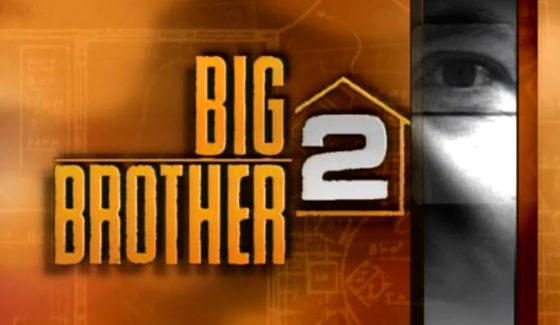 Launching way back in July 2001 Big Brother 2 ditched the viewer voting of Season 1 (read our series premiere recap here) and brought us the Head of Household and cutthroat attitude that change BBUS from a summer camp to a battle for a half-million dollars. Oh yeah, and it gave us Chill Town with Dr. Will and Boogie.
Despite all the drastic format changes for Season 2 producers wasted little time getting us right into meeting the new Houseguests and thrusting them in to the competition. A quick narration intro by returning host Julie Chen let us know things would be a lot different this time around.
Just as we see now, each Houseguest filmed a "here's your key!" segment before shouting "I've got 10 minutes to pack." Yeah, I still don't believe that line any better thirteen years later.
Next thing we know all twelve HGs are gathered in front of the house and sent inside in three groups of four. Nicole was the first to enter while Will was the last. This was the first time we saw a scramble for beds along with the introduction of a third shared bedroom and a Head of Household reward room. Some of the HGs find big, soft beds while others' only options were cots and a sleeping bag. That floor spot went to Kent, but don't feel bad for him. Kent won a Buick that night.
click images to see full-size views
Houseguests gathered in the living room and started to introduce themselves. The average age was thirty-three with the youngest, Justin, at 26 and the oldest, Kent, at 46. The getting-to-know-you phase didn't last long before Julie Chen interrupted their fun to start the battle.
Everyone headed to the backyard for their first food competition and a surprise luxury comp as well. HGs had to grab bags of groceries and then fit all twelve people plus the food supplies in a brand new Buick that was sitting out in the backyard. If they could fit everyone in there for sixty seconds then the food was theirs to keep for the week.
All Access Free Trial – Sign-up Now to Watch Big Brother!
The food situation was much different that year as Houseguests on the losing end of food fights were given peanut butter and jelly. "Slop" wasn't a thing just yet, sorry modern HGs.
Jumping back to the competition, Julie announced that once they had secured their food for the week there was one more thing to do with that car. The last HG to leave would win the car, but there were no bathroom breaks and no sleeping.
Nicole shook the comp up when she announced that whoever won the car should be voted out. Most everyone bailed at that suggestion and soon it was just Kent, Sheryl, and Autumn. Kent explained his wife needed a new car while Autumn, a single mother, didn't even have one to replace. Sheryl bowed out and soon it was just Kent and Autumn. Then after just 96 minutes Autumn ran out of the car to the house upset that she had lost, but as Kent pointed out, if she had really wanted the car she could have stayed.
The next morning Houseguests were gathered again in the living room for the first Head of Household competition. Julie explained the winner would get his or her own bedroom, a small room right off the living room, with a private bed. The real kicker that season: maid service. Oh yes, the HoH's room was cleaned up for them. Nice. There was also the reward of candy and snacks plus a fridge for drinks. Then just as we still have now the HoH enjoyed a special robe though the fuzzy slippers have dropped off the provided list.
Big Brother's debut of Head of Household was not decided by a physical or particularly challenging competition. Instead the HGs voted in a A/B style face-off designed to label and upset the participants. The winner would then select two other HGs to be nominated for eviction.
A spin-wheel was set up in the room with a series of labels like "smartest", "snobbiest", "bitchiest", "horniest", "smelliest", and "sexyist." One HG had to spin the wheel which would land two of those labels to be given out. The rest of the Houseguests would then vote for whether they wanted HG A or HG B to be the Head of Household.
The offense to be taken here was twofold. First someone could get something unpleasant like "smelliest" and second they could find out how few other people supported them for this new role of control. Ouch. All the voting was public and immediate. Double ouch.
Eventually things came down to Mike Boogie and Sheryl who each gave a speech, but it was Mike who decided to rap his and easily won the Houseguests' support to become the first HoH. Everyone soon rushed in to Mike's exclusive room to Ohh and Ahh at his HoH room. Somethings never change!
The episode wrapped up there with the promise of Mike's pending decision to nominate two HGs with one soon eliminated. That honor went to Sheryl after his plan to get Nicole out the door backfired. But even before that happened we saw Justin expelled from the game after putting a knife to the Krista's neck as part of a bizarre "joke" during a make-out session in the kitchen.
Big Brother Season 2 was a crazy and wild ride that set the bar very high for smart game play, Dr. Will Kirby, with alliances, Chill Town and Shannon falling on her sword for Will, along with plenty of drama, Hardy's toothbrush and the surprising friendship between Bunky and Kent.
Another glaring difference you can see in the first episode of the second season is how much more interesting and insightful the Diary Room sessions were. No one is yelling and the thoughts shared feel genuine rather than scripted narration provided by production. Wouldn't that be nice to have again?
It's a great season of Big Brother to go back and watch on All Access if you've already signed up. If you haven't then you can try it now at no-cost with their Free Trial. There are 545 episodes of Big Brother alone available right now to watch. Any season, any episode. Your choice. Check it out!
All Access Free Trial – Sign-up Now to Watch Big Brother!