If you missed CBS's 1-Month Free Trial of their new All Access, an online video service featuring complete archives of current and past series, including Big Brother, then now is your second chance.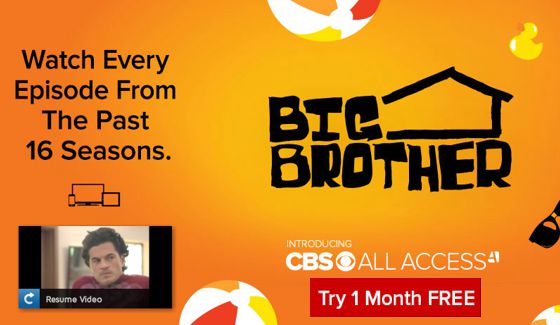 Last month CBS launched their All Access subscription service, which is going to also be the new home of Live Feeds for Big Brother 17 next summer, and had been giving away a month's subscription to early subscribers. That offer ended the other week, but now it's back for a few more days.
Starting right now and ending on Monday, Dec. 1st at 11:59PM PT you can get a second chance at a free month of watching every past season of Big Brother, Survivor, and lots of other CBS shows.
I've been enjoying going back through the archives and watching Big Brother season premieres to see just how much things have changed. There are over 500 episodes of Big Brother waiting for you.
All Access 1-Month Free Trial – Sign-up Now to Watch Big Brother!
Click the link above or any of the All Access banners on our site then use Promo Code THANKS to score yourself an entire month instead of the regular one-week offer they had going earlier.