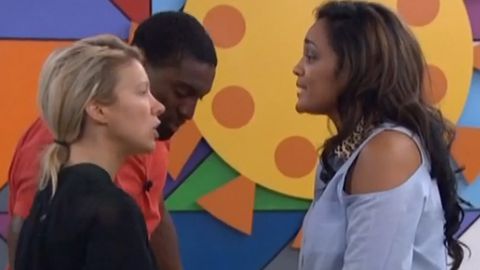 Last night the Live Feeds gave us the most Big Brother 15 action we've seen all season and it's only week 3. When the eviction show ended the Feeds burst in to fire with fights, threats, and more fights. What started as a sobbing mess of near pity transformed in to some of the worst hate we've seen yet. It was too much and went too far.
The first fight broke out at 9:21PM BBT when GinaMarie, who had yet to stop crying over Nick's eviction, lashed out at Jessie and blamed her for Nick's eviction. Jessie was trying to hide in her bed which was unfortunately in the room the Mean Girls alliance had now adopted. Jessie told her she was sorry she was feeling so bad, but GinaMarie responded saying it was "all your fault." Kaitlin jumps on Jessie and blames her as well. GM suggests Jessie was just jealous of her and Nick which prompts Jessie to leave while telling them if they want to be mature then they can talk to her.

GinaMarie follows her out to the other room where the rest of the house is sitting and starts a lengthy, rambling rant. Her nonsensical blabbering is full of gems like these that must be watched to fully enjoy: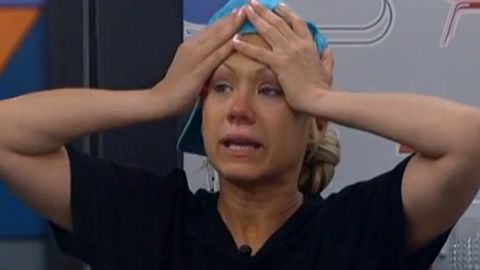 "I say stuff from my heart."
"I've been single for 2 years. I haven't been this upset since I broke up with my fiance and I wasn't even that upset."
"I just have a heart of gold."
"I bust balls, but I don't hurt people's feelings."
"I had such a connection with this kid [Nick], it's retarded."
"You didn't see what me and him were like by ourselves. We didn't need to show people how we felt. We just did it towards each other."
"Good luck and I'll see ya around. Thank you."
Next up we've got a fight over broken alliances as the Mean Girls gang up on Jessie. Again. Flashback to 10:09PM BBT. Jessie tries to explain to the girls that she didn't like the way they were treating her when she was on their side. Kaitlin is yelling at Jessie for having the audacity to lie to her in the Big Brother house. How dare she!
Judd comes in to check on Jessie and Kaitlin yells, "Judd, get the f&*k out of here right now!" He ignores her and talks to Jessie. When Kaitlin starts yelling at him for lying to her he tells Jessie they should leave. Keep in mind Kaitlin had never heard of Big Brother before she was recruited. No wonder she's shocked by lying.
As they get ready to leave Kaitlin says, "it's okay, Judd can be like your 5th chance of a showmance." It seems if you aren't having sex in the HoH room on camera, then you just aren't committing to your brand new relationship, huh Kaitlin? They ask Jessie how she thinks she's being portrayed on camera and Judd reminds the girls to ask that of themselves. He stays calm and escorts Jessie out of the room.
Now for where things really take a turn for the worst. While before we had seen some disgusting bigotry from Aaryn, GinaMarie, and Kaitlin they went from chickenshit, behind your back racists to up in your face ones. Flashback to 10:53PM BBT to find Candice entering the back bedroom to find her belongings on the ground from Aaryn flipping Candice & Howard's bed.
Candice tells them "I know someone's got one more time to flip my bed then there's going to be all hell in this house." Kaitlin shouts back "Wooo! Gonna see the black girl come out of you!" Aaryn says "Whatcha gonna do, girl? Whatcha gonna do?" along with a "I wouldn't get in your bed anyway with all them crabs" and antagonizes her with "Where's your class, girl? Where's your class?"
Howard comes in to break things up. The Mean Girls continue to shout at Candice while he tells her to come with him and leave the room. She doesn't. They keep yelling and she gets louder in return. Howard is shouting for her to leave. GinaMarie jumps out of bed and gets in her face yelling "whatcha gonna say?" over and over. "You want the black to come out?!" GinaMarie yells at her as Howard moves in between them. "You want the whites this way and the blacks this way?" GinaMarie yells as she gestures around the room.
Howard literally picks her up and carries a defiant Candice out of the room. As soon as she leaves Kaitlin says "ohh I just wanted to smack her right there." Candice and Howard go to the Have-Not room to talk it through. This is where things get really sad.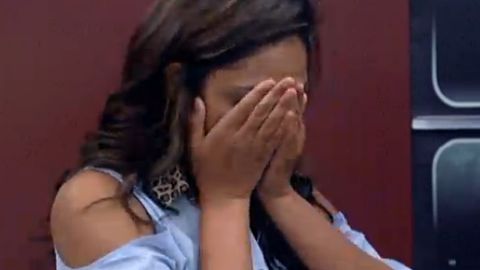 Howard asks Candice if she wants him to go home because he'll go home if he has to defend her. "I can't let them talk to you like that," he tells her. Candice says they flipped their bed and she's just supposed to let them? She asks him what she's supposed to do. He tells her to ignore them and let them have it. She says she won't sleep in the HN room. Her family wouldn't be proud of that.
He encourages Candice to sleep upstairs on the HoH couch instead of down there in their bedroom. She says she won't do that. Howard pleads with her to stay away from them because "if they call your name one more time, I'll go home." Candice covers her face, starts to cry, and tells him "I can't do this." Candice is adamant that they sleep in their bed, but Howard says "I'm not sleeping there." "So that means we're supposed to let them have our bed, Howie?" she replies. "We ain't letting them have it, we're being bigger right here. That's it," he asserts.
Ten minutes later Candice is still with Howard and crying, rightfully so. "We ain't running from nothing. This ain't the sixties. We're just being smarter," says Howard.
No one coming in to this game should be facing these situations. There is no excuse and no justification for this.
Perhaps in some weak willed attempt to put an end to this, as if this would work, we see Amanda head in to the back room to try and put an end to the hate. Amanda seems to have been a force driven by production on this issue before with Aaryn, but I don't know if this was the case again last night.

Flashback to 11:09PM BBT. Amanda comes in shouting "we're going to clear the air right now." She starts in on all the Mean Girls "saying shit about everyone." It's more about talking smack but quickly shifts to the main issue. Amanda tells Aaryn straight to her face "they are picturing you on the show as very racist! Everybody knows. I've been questioned. Everyone's been ques-" Fish come on. Ten seconds later they're back.
Amanda: "I've been trying to help you!" Aaryn denies it saying that isn't helping her and "it was f&*ked up what you just said." "It's the truth. I can't make you say anything you didn't say," Amanda replies. "I didn't say anything racist," claims Aaryn. Amanda tells Aaryn that production has questioned almost every person in the house about her racism. Aaryn again denies it and says she doesn't believe production would portray her as a racist "when I haven't said anything." Aaryn, GinaMarie, Kaitlin, and the other offenders are never going to stop something they don't even believe they're doing.
I simply can not believe how bad it's gotten in that house. Racially driven hate is now forcing HGs to feel like they can't be in parts of the house or sleep in their own bed. It's too much. Production has to put an end to this.
Oh, and if you're wondering where Candice and Howard ending up sleeping last night? On the floor of the Have-Not room.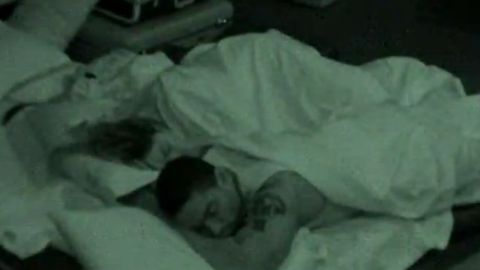 click images to see full-size