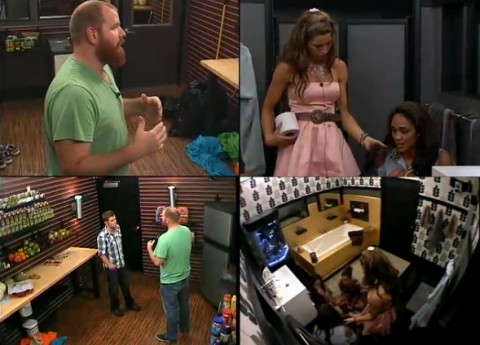 It was an insane night in the Big Brother 15 house after Nick's surprise eviction. There were fights after fights and tears after tears all night long. And a lot of the battles were way below the belt. It was so insane that there's not enough time in the day to recap all the highlights. Your best bet is to just get the Live Feeds now and flashback from 7:06 PM BBT and play it though.
Read about all the moments from the house on our Live Feeds highlights below. And remember that you can check out any of these moments by using the Live Feeds flashback/archive feature.
Big Brother 15 Live Feed Highlights – Thursday, July, 11/Friday, July 12, 2013
7:06 PM BBT – Feeds return after the live show. GinaMarie is SOBBING.

7:07 PM BBT – Helen is trying to figure out who didn't vote as they said they were.

7:14 PM BBT – GinaMarie is till crying.

7:40 PM BBT – Howard tells Spencer they need to blame the random vote on Jessie.

9:04 PM BBT – Spencer tells Elissa that the rogue vote was from Jessie. He's covering for Howard. Elissa tells Judd what Spencer said and neither one of them are buying it.

9:09 PM BBT – Candice and Helen are talking about that stray vote and they believe it's Spencer and not Howard.

9:22 PM BBT – GinaMarie goes off on Jessie for trying to talk to her after Nick's eviction.

9:42 PM BBT – Amanda says final five: Amanda, McCrae, Judd, Helen, Elissa. Final three: Amanda, McCrae and Judd.

10:13 PM BBT – House blows up over sleeping arrangements. The mean girls are attacking Jessie in the bedroom and Judd walks in and Kaitlin yells for him to get the f**k out of the room.

10:43 PM BBT – Helen gets her HOH room key. All the HGs go up but the other side of the house aren't up there very long.

10:54 PM BBT – GinaMarie and Candice are in each other's faces in the bedroom because that group flipped the mattress over so they didn't have to sleep on the same side as Candice and Howard. GinaMarie throws out something about separating the blacks and the whites (seriously) and then Howard literally carries Candice out.

11:10 PM BBT Amanda is finally having it out with the mean girls. She tells them they're all backstabbers and talking behind everyone's backs. Amanda tells Aaryn that production has been asking HGs about Aaryn's racism. She doesn't believe it.

11:19 PM BBT – Fight shifts to Kaitlin and Jessie. It's not too intense, though.

11:28 PM BBT – Howard is at his breaking point in the have-not room over all the racism and fighting. He's praying for strength. He's called to the Diary Room. He ignores it for a while.

11:30 PM BBT – Helen and Elissa are consoling Candice in the HOH bathroom. She is seriously upset over Aaryn's attacks.

12:00 AM BBT – Aaryn is upset at the idea of being seen as a racist. She doesn't believe she's said anything negative or racist.

12:45 AM BBT – GM & Jeremy having a talk with Amanda & McCrae about their destructive behavior.

1:25 AM BBT – McCrae reveals the Moving Company alliance to Amanda. He expects her to be mad and not trust him, but she says she still does.

1:45 AM BBT – Kaitlin apologizes to Andy for their earlier fight.

2:15 AM BBT – Howard & Spencer up in HoH room kissing butt and telling lies to cover theirs.

2:17 AM BBT – McC reveals the MC alliance to Judd & Andy.

2:35 AM BBT – Aaryn & Jeremy talking about her poor decisions. He says she shouldn't have flipped Candice's mattress. She said yes she should have. He thinks she's earned a return trip on a future season of Big Brother. He wants to go out with a bang to get an invite back too.
So as you can see, there wasn't much gaming going on. It was all drama, all night.
What an amazing night on the Live Feeds. You wait all season for a night like this and we just now entered the third week of the game. Week 3! There are months left to go and I don't see things slowing down anytime soon. These are all highly worth watching and seeing how the HGs interact with each other
You can watch all of these Big Brother 15 events using the archives flashback, the DVR-like feature of this year's Live Feeds which means it's always live, even when you missed it! Sign-up now to get the free trial to watch it all live & uncensored.