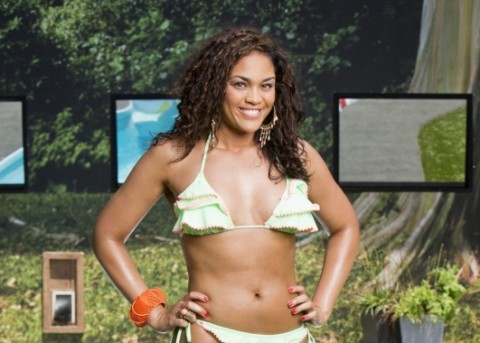 Another week has passed in the Big Brother 15 house and there's been a big power shift in the house, but before we start the new week, it's time to look back on how the houseguests played the game in Week 2.
I'll pull out the Top 5 players and then rank the rest in order from best to last. And this is only from Week Two. Anything that happened after Thursday night's live show will be considered for next week's rankings. So let's get to it.
Big Brother Week Two Player Rankings
1. Candice. Despite Candice suffering a HUGE amount of torture from Aaryn and her crew, she's managed to keep her head in the game. So much so that she all but figured out the Moving Company alliance (despite being snowed by Howard). It was her prompting that lead to Nick's nomination over Kaitlin. Candice is pretty much a hero in my eyes right now. Some might think Amanda or Helen deserve the top spot, but I beg to differ.
2. Amanda. This girl is playing this game. Not only did she form all the alliances she needed to keep her and McCrae safe, she managed to get everyone on board to save Elissa. She's also playing the social game well and is great at being a behind-the-scenes puppet master.
3. Helen. Despite being a have-not and a nominee, Helen was pivotal on keeping everyone in check with their plan to get Nick out and keep Elissa.
4. Spencer. This dude makes me cringe with basically everything he says in the company of his bros, but him flipping on The Moving Company was necessary to help the others oust Nick. He says he loves the game so much that he wanted to make a big move and that gets my respect.
5. Jeremy. This causes me more pain than ranking Spencer 4th, but I give respect where respect is due. Jeremy basically won the Head of Household and gave it to Aaryn so he could be safe for the week and be eligible to play the following week. And he won veto and got himself off the block.
The Rest
6. Judd. Continued his great social game and got Jessie to flip to his side of the house.
7. Andy. He was hardcore in campaigning against Nick and he interrurpted all the right (and wrong) conversations.
8. Elissa. She nominated Nick, which ended up taking the target off her back.
9. McCrae. He kept everyone too nervous all week to be ranked any higher.
10. Aaryn. She was HOH, so I guess she can have a top 10 spot.
11. Jessie.  Her switching sides is her best move yet.
12. Howard. His final vote can be used to throw people off.
13. Kaitlin. She slept most of the week.
14. GinaMarie. She's just a mess at all times.
15. Nick. It's sad to put him in last because he was a strong player, but he went home this week. And had he only promised Elissa safety, he may still be in the game. Bad move.
How would you rank the players from Week Two?