Seemingly in a bid to snatch the spotlight of bad game moves from Joey, Big Brother 16 Houseguest Devin Shepherd has started his own streak of erratic game moves and strategy that could end up earning him Joey's same fate.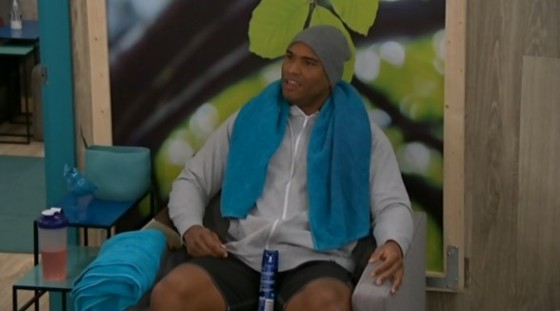 After leading an emotional House Meeting on Wednesday night (details here), packed with what I suspect to be crocodile tears, the rest of the house was left wondering what they had just witnessed. Devin "cried" about his misdeeds in the game and took complete blame for targeting and nominating Donny over his own misconceptions. Only Caleb and Amber missed the Meeting while they worked through their own issues.
Earlier today Caleb finally got a chance to talk with Devin about what was said and it didn't go over so well for Devin. Especially for someone already very high on most HGs' eviction lists.
Flashback to 10:40AM BBT Cams 3/4 to find Caleb and Devin sitting down in the HoH room. Caleb is upset because Devin told everyone that Donny's nomination was his doing, not Caleb's. The problem here is that Caleb told everyone he picked the first guy and first girl to fall in their comp. Devin's speech undercuts that messaging and Caleb felt that made him look like a liar.
Frankie soon joins and piles on saying that if it makes Caleb look like a liar on his picks, then Frankie's "first to fall" rationale would also become suspect. Frankie doesn't hold back in telling Devin that yes, it made it look like Devin was throwing Caleb under the bus. Devin takes great offense, but Frankie stands firm.
Devin begins threatening that he could expose the Bomb Squad and that he'll throw the next HoH comp because he wants to go home. A few minutes later Devin says they can all trust him, he'd never expose the Bomb Squad, and he's going to fight really hard in the comps. He's all over the place and spends half the time making claims and the other half contradicting them. It's bizarre.
Turn on your Live Feeds (get the Free Trial now) and watch Devin's erratic performance in the HoH room. It's hard to tell what's an act and what's just Devin being Devin. You'll have to decide for yourself.
As an added bonus, for Frankie Grande fans out there, he shows up again near the end of this event wearing nothing but his blue hat. Flashback to 11:18AM to find this latest bit for wild Frankie.