One of the many "Twisted" twists set to hit the Big Brother 16 house this summer will include a double dose of the HoH and its nominations. Instead of just one pair of nominated HGs this season there's set to be up to four players on the chopping block.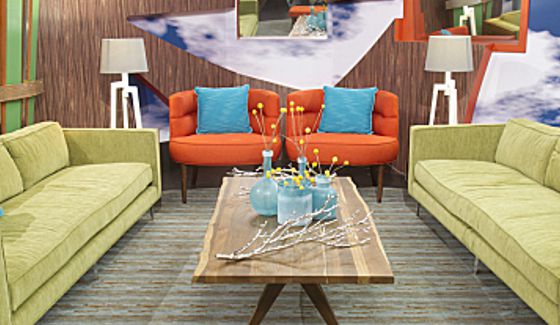 In her surprise reveal of a slew of twists last week Julie Chen revealed details on how the title of HoH would be shared along with all its spoils and pitfalls. "Each HOH will have the responsibility of nominating two fellow Houseguests for eviction every week; however, for the first time on the series, earning HOH will not guarantee one's safety in the game for the week," CBS explained in a follow-up release.
So how could this all play out on BB16? There's been plenty of speculation which is all we can really do at this point, but during Ian Terry's "Winners Tell All" chat session he offered a reasonable theory.
Ian suggested that while the week may begin with two HoHs and four nominations, by the time we get to the live eviction there will likely be just two nominees. An idea supported by the house design which offers up just two orange nomination chairs as compared to last year's couch intended to give more space for more nominees. If there'd be four noms at the end of the week then they'd have worked in space to accommodate four seats instead of two chairs.
That leaves of the question of how we get from four nominations down to two. Enter the new competition, "Battle of the Block." Look for this to be the decider on who maintains power and who stays up on the block, but it's not as simple as a VS event here.
Let's put together "Team A" with HoH #1 with his/her Noms #1 & #2 while over on "Team B" there's HoH #2 and his/her Noms #3 & #4. The nominations on Team A will want to win the comp and escape the chopping block, but if their respective HoH is also winning then wouldn't he/she retain HoH power and his/her nominations?
Seems there'd need to be some sort of crossover with HoH #1 joining forces with Noms #3 & #4 against the other "side." Only then would their interests be shared. Why? Because the losing HoH will fall back in to the mix of potential Veto renoms unless he/she wins that Veto comp (or even competes in it). That would explain Julie's details that for the first time winning HoH wouldn't guarantee your safety through the week.
Unless there's a separate pair of competitions for this "Battle of the Block" with HoH vs HoH and Noms vs Noms then it's going to be a big group effort of six players, much like we see with the Veto each week. It also means it'll be a team effort because what if, say, it's an individal comp and Nom #3 wins. How would the remaining HoH be decided? Of course BB14 offered up a small set of players in a comp with the Coach Challenges, but I don't see Big Brother doing a one on one comp.
Good grief. Is this all complicated enough for you? I hope so! Of course this is all speculation for how things will play out, but I think the ideas are pretty solid and wouldn't surprise anyone to see it work out this way.
What do you think of the "double trouble" twist for Big Brother 16? Good fun or just too messy? Do you think it'll all work out differently from what I've proposed? Share your thoughts below in the Comments section!
Update: According to an interview with exec producer Allison Grodner by THR, the two Heads of Household will be "ultimately going head to head in this competition with Battle of the Block." So it does seem they'll be actively competing in that comp rather than indirectly via their nominees. Interesting. How does this new information impact your expectations on the twist?