The Big Brother Early Bird discount pricing for your Live Feeds is set to expire soon in just a few more days. If you're planning to watch those in-house, uncensored cameras then you better "get to steppin'" or you'll miss the sale and end up paying more.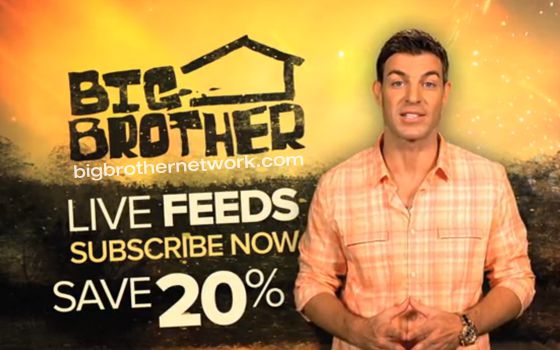 Every year I get signed up for the Big Brother Feeds because there's really no other way to fully experience the show without them. CBS's episodes are a great supplement, but when their edits are done the game we see on TV is often very different from actual events we watched days before.
If you're new to Big Brother or trying to decide on the Feeds then here's what you need to know. There are 76 cameras in that house this year, all in High-Def, and 100+ microphones. Using your Feeds subscription you can view up to four cameras at a time allowing you to watch and listen in on "private" conversations and events going on in the house.
Click here to sign-up now & get your Early Bird discount pricing
Not only do you get to watch the day to day events like scheming, lying, and backyard sunbathing, but when it comes time to endurance competitions, typically major turning points in the season, you'll be able to watch them live as it plays out.
To get signed up you can visit this link and get your Season Pass for a one-time fee of $23.99 with the preseason, pre-order discount. That sale price ends next Wednesday, June 25, 2014 and then goes up to $26.99 for the exact same thing. There's also a $9.99/month option available in-season, but you'll pay $30 instead of $24 right now or $27 next week. If you'd rather pay more just send me the $3/$6 and get the Early Bird Season Pass instead.

Speaking of sending me money, don't. I do not accept donations. This site is entirely free for you. Instead I pay the bills each summer on this site thanks to readers visiting BigBrotherNetwork.com and signing up for their Live Feeds subscription by going through our links & banners. CBS pays all sites a referral commission for directing sign-ups to them. It does not cost you a single penny more to sign up through a fansite like us, so please do that even if it's not mine.
Now if you just can't get the Feeds, then that's cool too because that's why we're here. Every day I'll have daily event summaries for you to share and discuss what's going on in the house complete with picture galleries (in lovely High-Def this season!). I won't let you miss a thing.
In summary, Big Brother Live Feeds = awesome way to fully enjoy the season; Early Bird sale = best way to get your Season Pass; Waiting until later & paying more = not such a good idea. Enjoy!