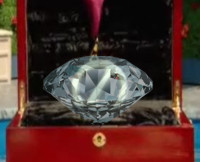 The coveted
Diamond Power of Veto
has returned to the
Big Brother 12
house! Last night on the nominations episode we watched as Matt entered Pandora's Box and
unleashed the Saboteur II
on the house. We were waiting to see just what it was that Matt had won out of the situation since no one was believing the "just one dollar" story we heard on the
live feeds
. Turns out that he won something better than a skyful of cash like last season. Matt won the Diamond Power of Veto from Pandora's Box.
Big Brother informed Matt that the Diamond Power of Veto could be used to remove one HG from the block, like a normal Veto, but its special power is the option for the holder to name the replacement. This renom power is usually reserved for that week's HoH, but Matt will be the one calling that shot instead.
The only catch appears to be that Matt must use the Diamond Power of Veto within the next two weeks. If he doesn't use it at today's Veto Ceremony, and I don't possibly think that will happen, then expect him to do it next week.
What does this new Veto mean for the game? Brendon and Rachel will be heading out the door back to back unless the remaining half of Brenchel wins HoH this Thursday. The Diamond Power of Veto is basically last season's Coup D'Etat rebadged with a shiny new name. The nominations will change and the holder of the power calls all the shots. The game will change and no one can stop it.
Do you like this new twist? Should Matt use it to evict the remaining half of Brenchel next week or take his first swing at breaking up The Brigade? So many possibilities will make this a lot of fun to watch play out on the live feeds.