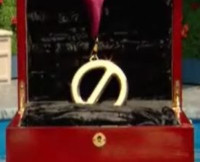 The Power of Veto Ceremony is over in the Big Brother 12 house and arguments are sure to follow with the eviction just days away. Crank up your live feeds (Free Trial still available if you're new to the feeds) and watch the HGs scramble to save themselves and secure votes. Keep reading to reveal Big Brother Spoilers for what happened today at the Veto Ceremony.
Britney, the winner of this week's PoV, decided not to use the Veto.
Brendon blew up at Britney during the ceremony and now Rachel is crying in the aftermath. Britney is furious over what was said by him to her. My guess? Brendon is trying to draw fire to keep Rachel safe this week. Get on the live feeds right now to see what's happening and catch any fights that are about to come up as Brendon continues down his path to self-destruction. Oh boy!
Update: Sure enough, that was Brendon's plan to save Rachel. Brenchel got alone and Brendon asked, "did it work?" Rachel replied, "uh, yeah!" She says she loves him for doing that but sorry that he had to. It's going to be incredibly entertaining to watch Brendon pick fights all week to get evicted just to have Rachel eliminated on Thursday night! Keep watching the live feeds to see what happens next.
What do you think? Which of these two will be evicted on Thursday's live show: Rachel or Brendon? Now a different question: Which would you prefer to go?
Be sure to sign-up for the free Big Brother email updates, register for the Big Brother Forum, join us on Facebook, and grab the free Big Brother Toolbar.
click images to enlarge