With the Big Brother 16 week winding down and the first eviction target confirmed, things looked set for a calm night… House Meeting! Oh yes, our first big pile-on of the season and no, it wasn't Joey Van Pelt leading the drama this time. The honor goes to Devin Shepherd who wanted to get something off his chest.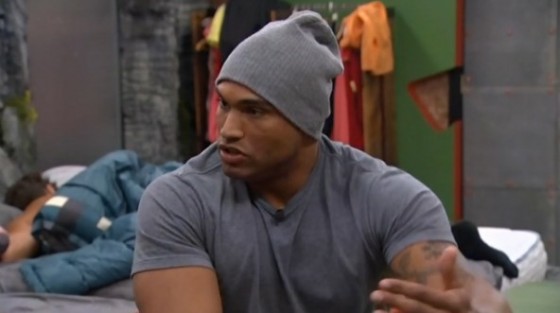 To set the scene Flashback on your Feeds to Tuesday (July 2) at 11:00PM BBT Cams 3/4 and you'll find Devin confessing to Donny that he is the sole reason Caleb nominated him this week. He admits to not trusting him and wanting to get him on the block.
Devin has come to Donny with this information now because what's really important now for him is "being a good role model" for his daughter. What? Devin has a daughter?? Why did he wait so long to tell anyone about this? Anyway, Devin says it's important that she know the difference between game and reality, a separation Devin may still be working on himself. Devin continues to apologize profusely and beg for forgiveness which Donny extends immediately and calls it water under the bridge. Donny says he's glad to know it wasn't Caleb's idea after all.
Now you're ready for the House Meeting. Flashback on your Live Feeds to Tuesday (July 2) at 11:19PM BBT Cams 3/4 to start the action.
Devin kicks things off by assuring HGs this isn't game play, it's all real talk. He immediately starts tearing up while suggesting they don't have to respect him after this talk is done. Check.
Devin explains that coming in to the house he wanted to "revolutionize the way we play big brother." This is his "honesty & integrity" game talk again and the idea is ridiculous. Big Brother is a game that you play and try to be sneaky at times to survive. It doesn't make you a bad person to do it. It makes you a normal Big Brother HG whether you win or not. It's like saying "I came here to play chess, but I want to do it without any pieces!"
Afterwards, Devin heads to the HoH bathroom where he hides out and cries in the WC stall. Downstairs the houseguests slowly disperse while not really sure what was just going on there.
Personally, I think this was another fake emotional "breakdown" for Devin. He's been faking a lot of these tears and this was another one of those. Earlier he pulled Derrick and Christine in to the Storage room and talked about trusting him and keeping calm (6:49PM BBT). That might have been a slight heads up that he was going to pull something.
Why would Devin call that meeting and "meltdown" yet again? He must have thought it would help, but Devin was on the edge already and as Frankie stated shortly after, "[Devin] just united the entire house against him." Yep.
Look for Devin to be the main target next week, but with the new Battle of the Block comp giving HGs one more out from eviction they may need to aim for a backdoor scenario. Then again, maybe we should focus on tonight's eviction first and then worry about next week next week.