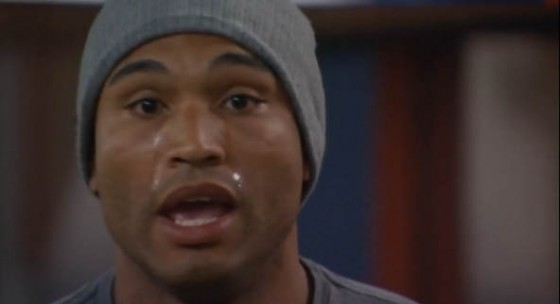 After a pretty slow week in the Big Brother 16 house, things really got turned up a few notches Wednesday night. Wednesdays are often a good night for Live Feeds as it's eviction night eve, but Joey and Paola had very little to do with the drama that went down. That honor goes to Devin and our first real House Meeting of the Big Brother season. Hooray!
Read on to find out about what else happened on the Big Brother 16 Live Feeds Wednesday night.
Big Brother 16 Live Feed Highlights – Wednesday, July 2, 2014:
4:15 PM BBT – Frankie and Zach talking about how Devin cannot win HOH this week.

6:40 PM BBT – Zach and Victoria are talking, trying to get information out of each other. It's kind of an awkward and funny conversation.

7:38 PM BBT – Now even Caleb seems to be wearing thin with Devin. He tells Frankie Devin only seems to care about himself.

8:24 PM BBT – Zach is talking to the cameras about how much he hates Victoria and how he's going to use all of his energy to ruin her.

9:38 PM BBT – Devin and Amber are talking about the Caleb situation. He's sort of coming at her for doing Caleb wrong, but she tells Devin that is not what's been going on. Amber is very upset with Devin.

9:45 PM BBT – Devin rehashes his conversation with Amber to Devin Caleb.

10:47 PM BBT – Amber is still upset about Devin. She heads to the bathroom, crying.

10:52 PM BBT – Amber, Jocasta, Paola and Frankie are all in the enclosed toilet are talking about what Amber should do over the Caleb/Devin situation.

10:56 PM BBT – Amber tells Caleb that what she has said to him is true. And that Devin is not the middle man. She says she wants them to be good and that she isn't happy with Devin right now. Amber implies that Devin has misunderstood (or lied) about her saying she was not interested in Caleb. She also implies that he's making her out to be someone she's not.

10:58 PM BBT – Meanwhile, Devin is trying to come clean with Donny. He tells him that he planned to play the game with honesty and integrity. He confesses to Donny that he suggested Donny go up on the block this week and that he didn't believe he was who he said he was. All Donny can ask is "am I sill a target for you?" Donny is way too nice.

11:18 PM BBT – Devin calls a house meeting. He says he wants to get things off his chest. He tells the group the same thing he told Donny about playing with honesty and integrity.

11:26 PM BBT – Frankie and Victoria are all "WHAT WAS THAT?" Frankie says that united the HGs against Devin.

11:28 PM BBT – Frankie and Zach meet in the storage room to talk about how crazy that was and say that Devin is going home next.

12:00 AM BBT – The have-nots get to eat!

12:25 AM BBT – Caleb is excited and discussing how Amber agreed to a date. He's going to start planning it. First he'll need to get the lotion set up in the bucket, but hopefully not the hose.

12:55 AM BBT – Talk turns back to Devin's speech. Frankie, Zach, and Caleb believe Devin's sincerity, but worry there's going to be collateral damage and he's making other targets. Talk continues and they suggest Devin should be next to go.

1:30 AM BBT – Frankie, Derrick, and Cody having a long game talk in the Hive about Devin. It's suggested that as long as he doesn't win HoH then he's gone (or Veto or BotB – lots of safeties). Derrick is worried that others are interpreting Devin's talk as outing his alliance with Caleb since Devin said he controlled Caleb's nomination of Donny.

2:20 AM BBT – Brittany talking with Jocasta, Amber, and Paola about targeting Devin. The women say they're going to fight hard to make sure he doesn't win.

3:00 AM BBT – Caleb is talking about… I'll let you guess. He admits she might not like him and that's okay. Well it's a start.
So it sounds like Devin made the target even bigger on his back. If he doesn't win HOH this coming week, then we can probably expect him to be nominated or backdoored and possibly evicted. If not, we're in for some crazy stuff until he leaves.
You can watch all of these Big Brother 16 events using the archives flashback, the DVR-like feature of this year's Live Feeds which means it's always live, even when you missed it! Sign-up now to get the free trial to watch it all live & uncensored.
click images to see full-size