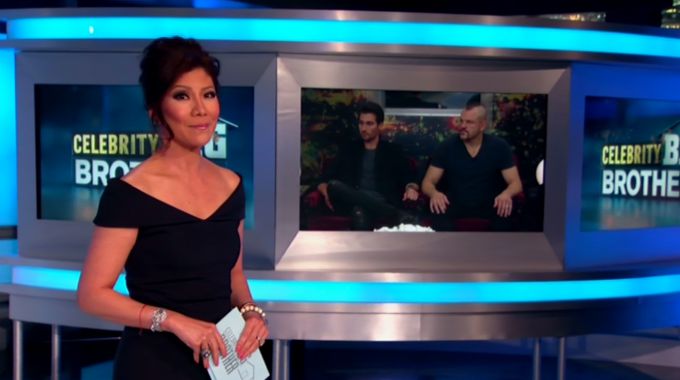 It's time for our first Live Eviction show (8/7c on CBS) for Celebrity Big Brother as we prepare to see which celeb will be the first Houseguest evicted from the series, falling far short of the $250,000 grand prize. Shannon's throne has been taken from her and Keshia setting the nominations of James Maslow and Chuck Liddell. Who will go home and who will take control? It's time to find out!
Before we get to all the excitement of the live vote we still need to wrap up the Veto events since we left off at the nomination ceremony. With tonight's show running two hours there's lot of time to get Power of Veto done first before rolling into the Diary Room votes.
Don't miss this week's eviction episode! You can stream it live on CBS's All Access in most markets across the US so you don't have to miss any of the fun even if you're out tonight.

From what we heard this was the always-fun spelling Veto comp so look out for lots of mess in the backyard and in those words.
Power of Veto Competition:
Keshia (HoH), James (Nom), & Chuck (Nom)
Players picked: Shannon (Keshia's HG Choice), Mark, and Ari
Host: Omarosa
Veto winner: Shannon – she spelled 'responsibilities'
Since James and Ari came in last place in the comp they have to wear baby costumes for 48 hours and take a bottle when Big Brother plays a crying baby sound.
Power of Veto Ceremony:
Veto power is not used
Final nominations are James & Chuck
Now that we've got the final noms of the week it's time to get to the vote. Earlier we heard there was a blindside in the works so this could be awesome fun. Hang on!
Celebrity Big Brother Results – Round 1 Votes:
Brandi Glanville votes to evict: Chuck
Ariadna Guiterrez votes to evict: Chuck
Omarosa votes to evict: James
Ross Mathews votes to evict: Chuck
Metta World Peace votes to evict: Chuck
Marissa Jaret Winokur votes to evict: Chuck
That's enough votes. Chuck is evicted.
Shannon Elizabeth votes to evict: Chuck
Mark McGrath votes to evict: Chuck
By a vote of 7-1, Chuck Liddell has been evicted from Celebrity Big Brother.
Time for a new Head of Household and don't forget that Recast twist is done after Keshia used it this week. Phew! Tonight's HoH hopefully stays HoH without any new silly twists on it.
The next Head of Household spoilers have been revealed after a long, overnight competition put another Houseguest in control. Find out who won HoH and will soon be setting the noms.
After the show, we'll be racing back to the Live Feeds for the eviction fallout and the next rounds of planning for this round's target. Grab the Free Trial and join us there!

Want more? Download our free Big Brother App, join us on Facebook & Twitter, and get our Email Updates! We'll keep you updated with the latest news and our in-depth reviews of the season.