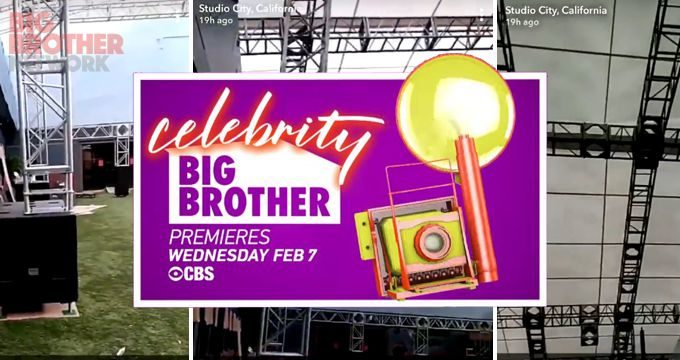 We have our first spoilers for the Celebrity Big Brother house thanks to a generous reader who caught an interesting video on Snapchat. The clip below along with screenshots reveals just how production is preparing to deal with the colder February weather when it comes to the Big Brother backyard.
Sure, there's an average high of nearly 70 degrees in February for Burbank, but that also drops to an average low of 44 degrees and the most precipitation in a month for the entire year. They're going to have to do something to keep things a little more cozy for these celebrities, right? So here comes the structure to cover the backyard, shield the Houseguests from the elements, and perhaps keep the temperatures a little more stable. Poor BB9 in its winter season just had heat lamps by the loungers.
Click through the gallery here for your first look at the Celebrity Big Brother backyard and see what we'll be watching in just one short month (for one short season!). Don't miss the BB Celebrity schedule too for all the showtimes and dates for the 18-day season run. Blink and you'll miss it!
Gallery: Celebrity Big Brother Backyard Sneak Peek
This is a pretty cool look and it quickly raised the question of whether they'd keep it for Big Brother 20 this summer. Maybe, but given all the sunbathing the summer season tends to enjoy I'm expecting to see this gone by then. You never know though. Either way the new season starts Wed, February 7th for a quick series up against the Olympics and we can't wait for the fun to begin!
Ready for Celebrity BB? Join us on Facebook, Twitter, & get our Email Updates for more!
twitter-tweet" data-lang="en">

@bigbrothernet Saw this on snapchat. Looks like they're building a roof for #BBCelebrity #CBBUS pic.twitter.com/0GLZIQQPp1

— Jared Brooke (@jaredbrooke1231) January 7, 2018
Credit: @jaredbrooke1231