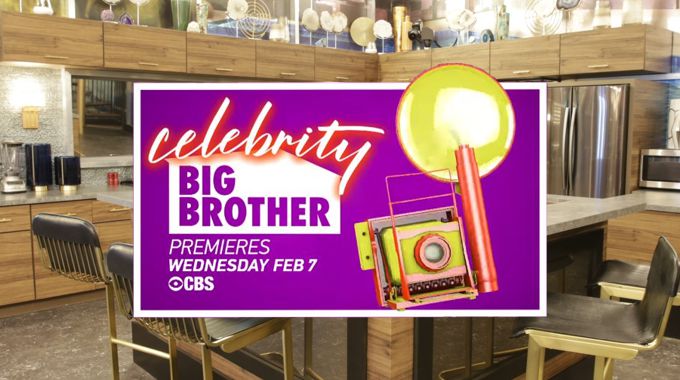 Here is our first look at the Celebrity Big Brother house with the early photos revealing the latest setting for CBS's Studio 18. So far, things are looking awesome but how weird is it to be getting new Big Brother house pics in January?!
Executive Producer Allison Grodner noted, "For the first time, the living room, kitchen and dining room all share a common vista with one cohesive theme – the Los Angeles skyline." So that's the house design theme this year I suppose and it's a very good look from what we're seeing so far!
We've got a first glimpse of the kitchen, living room, and a bedroom so far. In there we've got the new logo for Celebrity Big Brother's debut season, which is different from the purple version they've been using in commercials (see above). We also get a look at the hot seat nomination chairs. It just got real!
Gallery: Celebrity Big Brother House Revealed
What's your reaction? Like the Los Angeles skyline motif for the CBB house? What about that mint bedroom? Yikes. Well, I guess we'll have to see how that looks when it's in action. With just 2.5 weeks in the season let's hope they don't trash it quite the same as we see in the regular season.
As for doing things differently around the house for celebrities, check out the backyard structure they built to shield the HGs from the elements this February.
Speaking of the timeline, have you seen the Celebrity Big Brother schedule yet? 18 days of chaos with Live Feeds and all so you won't want to miss any of it when the season premieres on Wednesday, February 7th on CBS and CBS All Access!
Join us on Facebook, Twitter, and by Email Updates for all the CBB news all season.
Want more? About a house tour guided by Julie Chen? Here is the first teaser from Julie Chen! Watch and get even more details on what's ahead. Note here that Julie calls this series "Big Brother: Celebrity Edition" so now we've bounced around to the third variation of the title.
Video: Julie Chen CBB House Tour Teaser
twitter-tweet" data-lang="en">

JULIE LIVE FROM THE HOUSE #BBCelebrity #CBBUS Clues throughout the day! pic.twitter.com/L8fM7MiB63

— BBFan (@BBCelebFan18) January 16, 2018