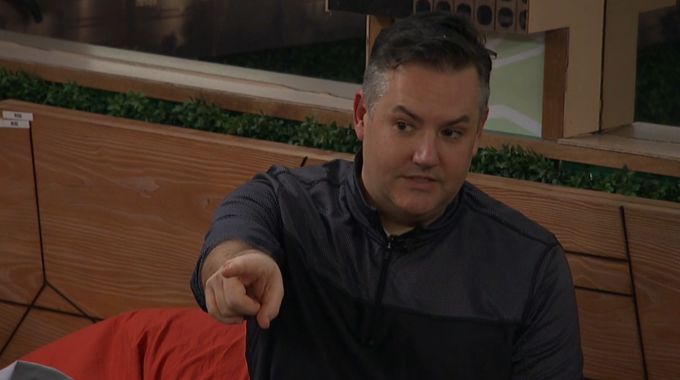 After a long, late night Head of Household competition, the Celebrity Big Brother Feeds returned to reveal the results and set us up for the next round of nominations. Now we know who is in charge, who is going up on the Block, and what moves are being made in the final two days of the season.
If you've got the Live Feeds (Free Trial) then you can watch all of these moments with the Flashback feature to go back and watch those important conversations or funny scenes you may have missed.
Celebrity Big Brother Live Feed Highlights – Friday, February 23, 2018:
12:27 AM BBT – Feeds return from the HOH competition. Ross won.

12:35 AM BBT – Omarosa encourages Ari to keep fighting hard to get to the end. She says there will be support in the Jury for her.

12:36 AM BBT – Ross tells Ari his nomination plans are Ari and Omarosa, but if either wins the Veto then she (M) will have to go up. Ross will protect her though as the tiebreaker.

12:38 AM BBT – Ross explains to Ari that Omarosa is his target. She wants to know why Mark isn't going up then. Ross explains he made a deal with Mark during the competition so he can't nom/renom him. Ross says they will all fight for the Veto to protect her.

12:45 AM BBT – Marissa says that everything she's done so far is for the three of them. Ross again confirms that he'll be putting Ari up and everyone but Omarosa is playing to keep Omarosa on the Block.

12:50 AM BBT – Ross says that Mark dropped to give Ross the win, but Ross is confident he would have won anyway.

1:05 AM BBT – Ross points out that he likes how Omarosa can be aggressive one moment then completely happy and fine with it the next.

1:30 AM BBT – Omarosa and Mark discuss how James didn't want to make any deals and how that brought him down. They think he was confident it would be Mark going up and out instead of him.

1:40 AM BBT – Ross promises Mark he'll be safe. They can't believe they could get to the end together after being up against six well-organized women in an alliance. Ross says he can't take Marissa to the end with so many women on the Jury. He's sure the women would band together with their votes so he wants to get to the end against Mark.

1:50 AM BBT – Ross and Marissa talk about being so pleased with their duo and how strong they were this season.

2:00 AM BBT – Ross asks Ari who she'd take to the F2. She says she wants to get there with him. Ross promises he will make sure everyone fights to keep Ari safe this round.

2:30 AM BBT – HGs are heading off to bed.
Ross is playing this game full tilt, but can he keep the wheels on the road as he takes these turns? Just a few more moves to make and we'll see who survives this round and makes it on to the season finale for a chance at the F2 and $250,000.
You can watch all of these Big Brother events using the archives Flashback, the DVR-like feature of this year's Live Feeds which means it's always live, even when you missed it! Sign-up now to get the free trial to watch it all live & uncensored.


Gallery: Live Feeds Highlights