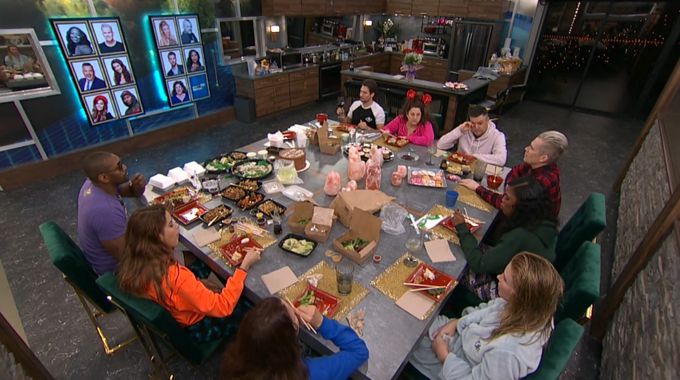 It was a short night for Celebrity Big Brother Live Feeds as we waited and waited, but important updates finally arrived. Feeds didn't return for the overnight events until after 11PM for the Houseguests thanks to the latest Power of Veto competition (get the spoilers) featuring the mysterious Black Box.
Missed Wednesday's daytime events? Catch up with a very busy morning filled with solid Big Brother drama of loose lips and sinking ships.
If you've got the Live Feeds (Free Trial) then you can watch all of these moments with the Flashback feature to go back and watch those important conversations or funny scenes you may have missed.
Celebrity Big Brother Live Feed Highlights – Wednesday, February 14, 2018:
3:40 PM BBT – Feeds cut for the Veto comp.

11:02 PM BBT – Feeds return.

11:04 PM BBT – Shannon went upstairs and chatted with Ari and Brandi. She's in good spirits.

11:06 PM BBT – Brandi curses James after praising Shannon's performance. James won the Veto.

11:08 PM BBT – Ross describes how there was a layer of honey on the floor of the comp. He says they had to come back to the house through the Storage room door to get back inside.

11:12 PM BBT – James wonders if he'd be safe if he didn't use the Veto on himself. Ross assures him he has to use the Veto and James agrees. James says he can try to puff up some arguments with Omarosa to help Shannon's chances.

11:13 PM BBT – Shannon says she's sorry she'll miss out on Zingbot and OTEV.

11:15 PM BBT – Big Brother delivered the HGs a great feast of sushi, Valentine Day's cupcakes, wine, and more. The HGs are thrilled. It is a celebration of making it to the halfway point. (There are still 9 of the original 11 HGs at this halfway point.)

11:30 PM BBT – HGs enjoying their celebration meal together as a happy group.

11:50 PM BBT – HGs gathered in the back alley and chatting about the comp.

12:35 AM BBT – HGs discuss amorous activities of the past seasons. Shannon explains some of the more infamous tidbits like Howie's "Jack Shack."

12:50 AM BBT – Marissa brings out the art projects she and Ross worked on in the HoH room while waiting for the comp to end.

1:05 AM BBT – Metta tells the HGs about his family and having a hard time growing up.

1:15 AM BBT – HGs note how cocky James is tonight after winning the Veto.

1:20 AM BBT – Brandi explains how much different BBUK was from this. HGs are surprised she would want to do it more than once.

1:45 AM BBT – HGs starting to wind down for the night. Brandi tells Shannon she has an idea that she'll share tomorrow.

1:50 AM BBT – Upstairs Brandi is with Ari and Ross as she starts to feel bad about Shannon. Ari tells Brandi she can't keep changing her mind. Brandi says she didn't promise Shannon anything. Ari points out that Shannon won't help or protect them if she stays.

1:55 AM BBT – Ari points out they could have BD'd Shannon but instead they gave her a chance to compete.

2:00 AM BBT – Brandi and Ari try to decide between using Mark or Omarosa as the renom. They worry Omarosa might be risky as a temptation alternative to Shannon.

2:50 AM BBT – Metta lets Shannon know that if she stays then he will work with her. She promises if she gets to stay she won't fight, she just wants to experience more of Big Brother.

3:30 AM BBT – Few HGs still wandering the house, but soon everyone is asleep.
We'll have to see what Brandi has planned for Shannon and whether or not she'll really try to save her. She keeps waffling on who she wanted to go between James and Shannon, but now that choice has been simplified. Whatever is ahead, Shannon has less than two days to figure out a way to stay in the Celebrity Big Brother house.
You can watch all of these Big Brother events using the archives Flashback, the DVR-like feature of this year's Live Feeds which means it's always live, even when you missed it! Sign-up now to get the free trial to watch it all live & uncensored.

Gallery: Live Feeds Highlights