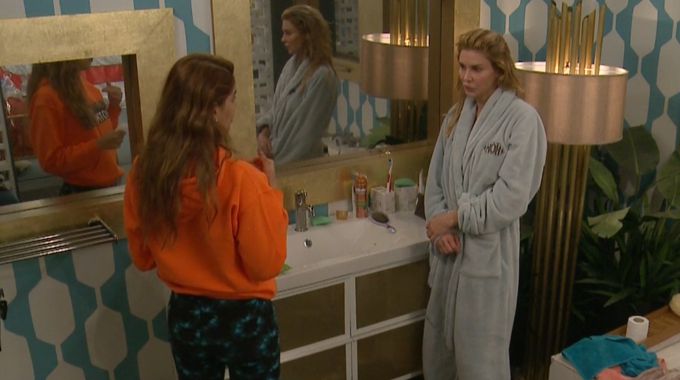 The Veto competition is over for the latest round of Celebrity Big Brother spoilers but decisions still need to be made and for a few of the HGs it won't be an easy choice, even if it's the obvious one.
James and Shannon were sent to the Block by Ari and now, after last night's HoH comp, we know James will be saving himself and opening up a spot on the Block. Since the last round, the background murmurs have been to target Shannon and send her out the door. Now with her last chance at safety behind her is Shannon's game set to end on Friday night?
Things look pretty bad for Shannon. She figured out earlier in the week that she was toast and the tears started to flow. It could have all been a show, but the game and house is stressful so those tears could have been sincere. There's been a lot of support from the other HGs who have tried to remind Shannon that this is all a game and nothing personal.
Last night (Flashback to 1:50 AM BBT 2/15 Cams 1/2) Brandi spoke with Ari that she felt guilty and heartbroken to see Shannon so sad and upset. Shannon had earlier expressed a desire to stay just a little longer so she could see Zingbot and OTEV. It seems she managed to tug on Brandi's heartstrings. Ari isn't having any of that though.
Ari was quick to remind Brandi that Shannon is smart, athletic, and knows Big Brother inside and out. Shannon is definitely a threat and Brandi knows it. Ari isn't backing down, but then again Ari doesn't have a vote this week.
Ari does have a renom to make though and the current choices are likely Omarosa or Mark. She's worried that Omarosa is too tempting of a pick up on the Block so I'd watch for Mark to be up there next to Shannon on Friday's eviction night. From there we'll have six votes meaning either nominee needs four votes to stay for sure, or three votes to reach the tiebreaker. In the case of a tie I would definitely expect Ari to evict Shannon.
Could Shannon get four votes? Brandi has said she would like to keep Shannon, but when push comes to shove I think she knows Shannon is a threat to her chances of winning and needs to go. James is obviously an ally of Shannon's but against Mark I think he'd vote to keep Mark. Marissa wants Shannon gone. They're friends outside the house, but like they keep saying, this isn't personal. Metta? Who knows, but he'll go with the flow. Omarosa has told Shannon she'd fight to keep her, but ehh, I doubt she really would. Ross? He's too afraid of Shannon coming back after him to vote to keep her.
If we see a 6-0 vote against Shannon on Friday then I wouldn't be shocked, but we may get one or two votes in her favor. All the same, it won't be enough and I expect Shannon to be out the Big Brother Celebrity house door on Friday night.
What do you think of the HGs choice this week? Is Shannon the right target or should they be getting out someone else instead? Share how you would vote between Mark and Shannon, should that be our final pairings for this round's nominees.