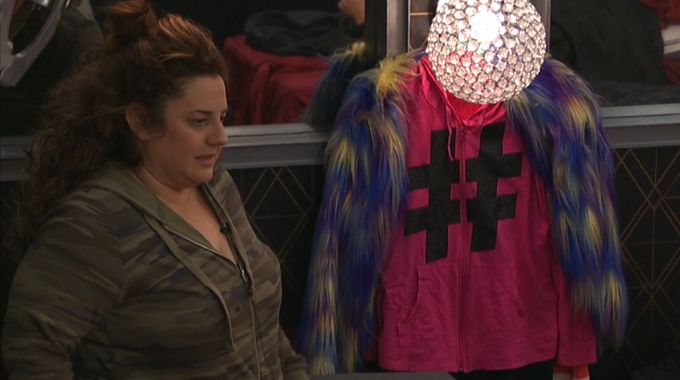 The Celebrity Big Brother houseguests have different ideas on who should go home this week, and the winner of the Power of Veto will definitely be throwing a wrench in things as well when it's used this week. Ross found himself caught in the middle of it all today as he tried to keep all of his alliances happy. But it's not working out so well. Read on for details on how Ross is juggling it all.
If you've got the Live Feeds (Free Trial) then you can watch all of these moments with the Flashback feature to go back and watch those important conversations or funny scenes you may have missed.
Celebrity Big Brother Live Feed Highlights – Wednesday, February 21, 2018:
9:20 AM BBT – HGs are getting up for the day.

9:25 AM BBT – Ari tells Brandi that HGs were saying Brandi yelled at them last night.

9:35 AM BBT – Ari wonders if Omarosa is working with Mark. Brandi is sure they're working together.

10:00 AM BBT – Marissa and Omarosa wonder if Brandi has been acting different since she didn't get a video of her kids like the rest got to see family.

10:55 AM BBT – Brandi says they've all complained about James's cockiness so why does she get blamed so heavily?

11:05 AM BBT – Brandi is upset at Marissa for not standing up for her the night before. Marissa denies knowing what she means.

11:10 AM BBT – Brandi and Omarosa apologize and hug.

11:20 AM BBT – Omarosa says she's enjoyed playing the villain on the show.

11:35 AM BBT – Omarosa talks with Ari to see if she knew Brandi was the target. Ari says she overheard talks about it.

11:45 AM BBT – HGs wonder if this will be the Hide & Seek Veto. They start talking about options to hide the Veto card if it is.

11:55 AM BBT – Feeds cut for the Veto comp.

6:28 PM BBT – Feeds return. Brandi is asking wondering who Mark is going to put up. Sounds like Ari won the veto.

6:39 PM BBT – Mark tells James that he is going to nominate Marissa. He says he'll tell Marissa tomorrow or the day of the veto ceremony so she knows in advance but doesn't want to listen to her sulk before then. Mark says if everyone wants to get Brandi out then there shouldn't be a problem with this plan.

6:43 PM BBT – James says Ari staying is good because if she wins HOH she can take out Omarosa instead of one of them. Mark says he's not sure who Ross or Marissa would go after. James says Ross is going after Omarosa. Mark isn't sure. James says he thinks Ross is telling the truth when he says he doesn't want to sit next to a girl in the end.

6:55 PM BBT – James tells Mark that after Brandi leaves, he will have helped in getting out every single person who tried to get him out.

7:00 PM BBT – Mark says he's going to tell Marissa that they have all been pawns and this is her turn. James says to just make it very clear that there's absolutely no way she will go home this week.

7:02 PM BBT – James is excited for Brandi to be leaving. He said it needed to happen sooner than this. He is also talking about hiding the booze from her if they get more tonight.

7:08 PM BBT – Mark says there's no changing his mind about putting Marissa up but he will let the others think there's a chance he'll put Omarosa up instead. They discuss if Ari decides to use the veto on Brandi to try to get Omarosa up. James says he'll tell her if she saves Brandi then she will go home herself.

7:25 PM BBT – Ari, Brandi and Marissa are trying to figure out why the guys aren't going after Omarosa instead. Brandi says they can beat Omarosa physically because of her asthma but not mentally.

7:28 PM BBT – Marissa says she knows she's going up so Mark and James can block them from voting out Omarosa instead of Brandi. Then Brandi wonders if they might be trying to backdoor Ross. Marissa says no, even though that would be a good game move.

7:30 PM BBT – Ari says Mark should put up James even though she knows he won't. Brandi said Mark could get to the end if he did that, though, but right now he's playing for second place. Marissa agrees and says James is winning this game and that they messed up the first eviction when they kept James over Chuck. Ari and Brandi agree.

7:36 PM BBT – Brandi says they should tell Mark that if he puts up Omarosa they will all vote for him to win in the end. They said they'd do it if he was receptive.

7:45 PM BBT – Brandi tells Marissa she will definitely be going up. Ross tells them to push for Omarosa to go up. Brandi says they won't do it and she won't beg for anything.

7:52 PM BBT  – Ross tells Marissa he hasn't heard any talk of her going up and if it happens it will be a shock to him. Marissa says she doesn't want to go out this way. Ross tells her she has his word that he won't vote to evict her if she's up with Brandi.

8:20 PM BBT – HGs playing pool and hanging out. Not much going on.

9:03 PM BBT – Brandi asks Ross if he's going to vote for her to stay. Ross says he would love to but he doesn't know if it's enough. He says he's in a tough position and if he votes to keep his word to Brandi, he will mess up his game. Ross says if the vote is a tie they won't keep her. Brandi says she thinks they can be convinced. Ross doesn't think so.

9:06 PM BBT – Ross and Brandi talk about friendships. Ross tells her he doesn't want to lose her friendship over this. Brandi says he won't lose a friendship but if he votes her out he won't get her vote in the end.

9:08 PM BBT – Brandi tells Ross she has stuck to their deal and now she's kicking herself for sticking to it. Ross asks why she's kicking herself. She says because she knew he wouldn't stick to their deal.

9:14 PM BBT – Ross tells Brandi that Marissa has been good to Mark and James and they won't flip the target to her. Brandi says he could convince him, but Ross says he doesn't think so but he will talk to him.

9:15 PM BBT – Ross tells her that she knows he's a good guy but it's tough to be a good guy in the house. He says he's sorry if he has to go against his standards.

10:00 PM BBT – Mark tells Ross the plan is still Brandi this week. Ross keeps pushing for Omarosa.

10:25 PM BBT – Brandi is surprised to hear Big Brother is a family show, per James. She wonders how much they have to bleep her.

10:30 PM BBT – Omarosa is detailing about specifics about how many times Victoria was nominated and the name of Paul's inflatable toy.

10:45 PM BBT – HGs are getting excited for finale night, wondering how it will work, and if they can get back in to show family and friends the house.

10:50 PM BBT – Ross notes that Metta wanted to leave after 45 mins inside the house.

12:05 AM BBT – Brandi and Ari talk with Ross and Marissa over the pending renom. Marissa thinks they might still be able to talk Mark in to Omarosa going up. Brandi is sure it'll be Marissa and then she (Brandi) will be going next. Brandi says they need to get rid of James since he's a bigger threat than Omarosa.

12:20 AM BBT – Ari tells Ross that Brandi told her to vote her (B) out since it was a lost cause anyway. Ari tells Ross he can put her on the Block if he has to, but he better get to the end if that happens. They promise each other they're not the other's target.

12:45 AM BBT – Marissa tells Ross it would be safer for him than her to be the renom. Ross suggests Omarosa is the likely renom. (She's not.) Marissa wants to make a deal with Mark that she'll vote however he wants if he puts up Omarosa instead.

1:00 AM BBT – James lies to Marissa and says he doesn't know what Mark is planning to do. James says the target remains Brandi so it won't matter who goes up.

1:10 AM BBT – Brandi vents to Ari that Ross messed up his own game and that wasn't her fault. She says Ross made too many deals around the house.

1:15 AM BBT – Brandi thinks Ross could win by outsmarting James and Mark, but she won't vote for him to win, or at least that's what she told him. She thinks the Jury is going to be angry with him coming voting time.

1:25 AM BBT – Brandi has an idea. She wants to suggest to Mark this is the chance to BD Ross. Ari thinks Omarosa would vote him out if he's up. Brandi is very upset that Ross isn't helping save her since they had a Day 1 deal.

1:35 AM BBT – Ari thinks Marissa would beat Ross if they're F2. Brandi says she'd still probably vote for him over Marissa.

1:55 AM BBT – Omarosa tells Brandi and Ari that James is making strategical errors by handing over comp wins. She values comp wins then social game to determine the winner. Omarosa also worries about Marissa at the end and would rather not be there against her. She tells them she tried to push for Ross to go up but Mark insisted Brandi was his target.

2:00 AM BBT – Omarosa promises Brandi she'll vote to keep her if she can get one more vote. Otherwise, it'll be a tie, Mark will evict Brandi, and Omarosa will be in trouble.

2:10 AM BBT – Brandi wonders if there's any use in talking to Mark. Omarosa says to do it when James isn't there since he's the bitter one.

2:20 AM BBT – Brandi is frustrated that the guys are playing with more emotion than the girls.

2:30 AM BBT – Brandi says she'll sleep on the idea of talking with Mark. HGs turn off the lights and go to sleep.
Mark has Brandi right where he wants her and the odds don't look good for her chances to survive this round. She hasn't given up yet though so we'll watch for more talks on Thursday. There's still plenty of time before the first eviction on Friday night so anything is still possible for her game.
Read what happened next with our overnight Feed report for Tuesday.
You can watch all of these Big Brother events using the archives Flashback, the DVR-like feature of this year's Live Feeds which means it's always live, even when you missed it! Sign-up now to get the free trial to watch it all live & uncensored.

Gallery: Live Feeds Highlights