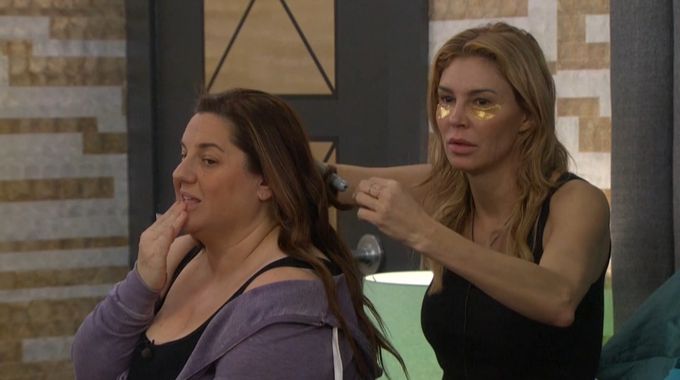 Nomination Day arrived for the Celebrity Big Brother Houseguests and it kept them and us guessing until the formal reveal later in the day. Omarosa is using her position of power to make deals, but will anyone stick to their word? It won't be easy now that they know a Veto twist is coming and that could throw everything off course.
If you've got the Live Feeds (Free Trial) then you can watch all of these moments with the Flashback feature to go back and watch those important conversations or funny scenes you may have missed.
Celebrity Big Brother Live Feed Highlights – Saturday, February 17, 2018:
9:05 AM BBT – HGs are getting up for the day.

10:00 AM BBT – Omarosa is trying to figure out who was the vote against Mark. Brandi admits she voted for Mark to go because she felt bad for Shannon.

11:10 AM BBT – Ari, Brandi, and Marissa wonder who Omarosa will target. They think O will go after the guys but probably keep her deal with James. Brandi says they should direct Omarosa toward targeting Mark.

11:20 AM BBT – Mark tells James he (M) isn't a target, but he is being used as a pawn and he doesn't like that. James says if they want a good chance at winning then they should try to get to the end with Ross and Marissa. Mark agrees.

11:35 AM BBT – Marissa asked Omarosa if she's going up. Omarosa says her target is Ross since he nominated her which makes it an easy choice to justify. Brandi suggests Mark instead. Omarosa says she really wanted to get the girls alliance back together.

12:55 PM BBT – Brandi promises Marissa she'd have the votes to stay if she's up against Ross. Marissa disagrees and says even she (Brandi) would vote her out over Ross.

12:57 PM BBT – Ari tells Brandi that Omarosa isn't putting her (B) up so she shouldn't worry. Brandi doesn't want Ross to go this round.

1:00 PM BBT – Marissa asks Brandi and Ari if they just lie and say they'll vote Ross out over Mark but then not. Brandi says she's sure Omarosa knows she doesn't have the vote to get Ross.

1:25 PM BBT – Omarosa offers to Marissa that if someone else gets the power to name noms (upcoming twist) then they can put up James, but she can't.

1:55 PM BBT – The women discuss how to make sure the women get to the end and not squander the original numbers advantage they had.

2:25 PM BBT – Ross asks Brandi to work on Omarosa by offering an easy target. Brandi says they've been suggesting Mark, but it's not working.

2:30 PM BBT – Marissa and Brandi agree to lie to Omarosa and say they'd vote out Ross.

2:40 PM BBT – Omarosa warns James that while she made a deal with him the rest of the HGs didn't and she claims they've been reminding her of that.

3:20 PM BBT – Ari and Brandi discuss how stressed out Ross is getting since he doesn't know what's going on and he can't control the game for the first time.

3:45 PM BBT – Omarosa tells Mark she doesn't want to nominate him and her target is Ross. They make a deal for Omarosa to keep him safe and Mark will return the favor. She says Marissa will be her renom choice. She says she'd rather not have Marissa, Metta, or Ari with her if she makes to the finale.

3:55 PM BBT – Omarosa works through the votes and sees she still doesn't have the votes to get out Ross.

4:00 PM BBT – Omarosa goes to Metta and he promises to vote out Ross. She goes to James next but he says he has a better chance of beating Ross than Brandi at the end. Omarosa keeps pushing for Ross to be his vote, but James is hesitant.

4:05 PM BBT – Omarosa promises James that if he's up on the Block as part of the Veto twist (they were warned it was coming, but no details) then she'll campaign to save him.

4:15 PM BBT – James and Mark discuss Omarosa's proposal for a F4 with her and Metta. James thinks that might work.

4:20 PM BBT – James still thinks he personally flipped the house in the first round to be saved.

4:30 PM BBT – Mark and James agree to try this deal with Omarosa. James admits he tried to form a F2 with Ross, but Ross wouldn't accept it.

4:45 PM BBT – Omarosa warns Marissa that she now wants to get Brandi out so she (M) should tell Ross to fight hard for the Veto. (This appears to be a lie to distract Marissa and Ross.)

6:30 PM BBT – Feeds are back from the nominations ceremony. Omarosa nominated Ross and Brandi. Ross says Omarosa's justification that he has deals with the whole house isn't accurate. She says it was just to make for dramatic TV and really she wants to split up the pairs. Ross says she should have just said that then.

6:40 PM BBT – Marissa is upset that Omarosa suggested she (M) had sold out her allies with these nominations. Marissa promises Brandi she didn't do anything shady with deal-making with Omarosa.

7:40 PM BBT – Marissa tells Ross he'll be okay. He has her vote along with Mark and James for him to stay. Ross worries that if Ari gets renom'd against him then he could be in trouble, but hopes he'd still have the guys' votes. Ross says they should keep him so he can help get Omarosa out.

8:05 PM BBT – Marissa talks with Ari and suspects that Mark and James may have made a deal with Omarosa to vote out Ross. They realize Omarosa won't renom Mark but instead one of them two. They fear the F3 could be Metta, Mark, and James. Marissa knows she's in a bad spot because she'd vote to keep Ross, but he'd go and then she'd be in the house with Brandi after voting against her.

8:35 PM BBT – Ross and Marissa wonder if Mark made a deal. Ross says he'll go grill Mark since he can tell if he's lying.

10:40 PM BBT – HGs are thrilled to discover After Dark is throwing them a margarita party. HGs on Slop get to enjoy them too.

11:20 PM BBT – Ross says it wouldn't be so bad to go home on Monday. Brandi says it'd be discouraging to work this hard and then get voted out.

11:30 PM BBT – Ari and Brandi suspect the guys made a deal with Omarosa and told her about their F5 deal with James. They hope this Veto twist gives them a way out.

11:50 PM BBT – Ross and Brandi agree that they want to outlast Omarosa so they need something to get them past this.

2:00 AM BBT – HGs have gone off to bed.
Ross definitely appears to be Omarosa's target and she's made smart moves here to help box him in, but until we see what happens with this Veto it'll be hard to know if she can pull off her plan. That Veto comp seems to be waiting until Monday's live eviction show so we won't get much solid speculation on it until then.
You can watch all of these Big Brother events using the archives Flashback, the DVR-like feature of this year's Live Feeds which means it's always live, even when you missed it! Sign-up now to get the free trial to watch it all live & uncensored.

Gallery: Live Feeds Highlights