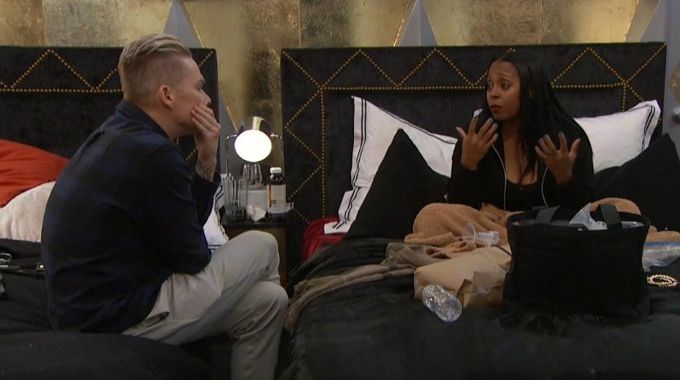 Nominations Day in the Celebrity Big Brother house had a little extra drama to it thanks to, sit down for this one, Omarosa. When she had to leave the house on Friday night the HGs weren't sure if she'd come back, especially given her obvious pending nomination. But eventually she did and she seems to have brought a new attitude on the situation with her. Might work out okay afterall for her since the new HoH is starting to consider a bigger target in the game.
Don't miss your chance to watch along with us. The season is just getting started and that'll run less than a month (check the schedule) so you can watch all the fun for less than $6.
If you've got the Live Feeds (Free Trial) then you can watch all of these moments with the Flashback feature to go back and watch those important conversations or funny scenes you may have missed.
Celebrity Big Brother Live Feed Highlights – Saturday, February 10, 2018:
9:00 AM BBT – HGs received their wake up call. Keshia had been up earlier on her own for awhile doing laundry.

9:15 AM BBT – HGs talking about Omarosa still being gone and hoping she can come back.

9:35 AM BBT – Mark points out that was Omarosa's first competition and worries it could happen again if the situation caused it.

9:50 AM BBT – James lets Metta know that if Omarosa doesn't come back then maybe they can get him (Metta) out like he wants them to do. Metta says he's coming for them.

11:05 AM BBT – Ross says if Omarosa doesn't come back then he'll go with what Metta requested and put him up.

11:10 AM BBT – Brandi suggests they could let Metta win HoH so he'd target Shannon and James for them. Brandi thinks it's the wrong approach to get rid of Metta earlier than their bigger targets.

11:15 AM BBT – Marissa says she wants to have an asthma attack too so she can go to the hospital and get lots of rest and recharge away from the game.

11:30 AM BBT – Metta tells Keshia they should have gotten rid of James and if Shannon hadn't won Veto then she would have been a good target too. He says they can't pass up opportunities to backstab.

11:35 AM BBT – Ross tells Brandi, Ari, and Marissa that he wants F4 with them so he needs James and Shannon to just believe he's with them when he's not. Brandi says they should definitely keep her around because they'd all beat her (Brandi) in the end.

11:45 AM BBT – Brandi complains it won't be fair if Omarosa was allowed to get more sleep while out of the house. Marissa agrees that it'd be an advantage in the Veto comp.

1:05 PM BBT – Ross warns Mark they need to keep an eye on Shannon and James. He's planting seeds that those two could be forming something between them. Mark says they are getting close and he'll watch them.

1:15 PM BBT – Shannon promises Ross she doesn't have other secrets and is sorry she didn't tell them about her deal with Omarosa.

1:25 PM BBT – Ari wonders if Ross should put up Shannon if Omarosa doesn't come back. Ross explains that it's too risky since Shannon would come for him if she won Veto. Brandi says they need to get someone come after them. Ross says he would want to get Keshia out. Ari wants Shannon out, but Ross insists Shannon could win Veto. He says they need to wait and see what happens at Veto before deciding what to do about Shannon.

1:35 PM BBT – Mark and Keshia talk about what happened with the vote. She's very frustrated that no one came to her to discuss what was going on, they just flipped the vote. Mark encourages Keshia not to withdraw from the social game. She says she won't, but she misses her baby.

2:15 PM BBT – Marissa and Ross agree that if either of his noms comes down then Shannon should go up since she lied to them about her deal with Omarosa. He backtracks that he probably wouldn't put up Shannon, but it's something to consider.

2:20 PM BBT – Ross tells Marissa that he trusts Brandi and Ari a lot. Marissa thinks James will flip on them if they target Shannon this round.

4:35 PM BBT – Omarosa is back in the house.

5:15 PM BBT – Feeds have turned off for an extended period and back on twice in a short timeframe including a HoH lockdown for the HGs. Ari goes downstairs and discovers Omarosa has been in the house. She lets everyone know. They had no idea.

5:20 PM BBT – Ross talks with Metta who says he should target James or Keshia for his best move.

6:35 PM BBT – Ross tells Marissa his plan for noms remains on Keshia and Omarosa, but if one of them comes down then they'll need to revisit the Shannon or James discussion.

8:05 PM BBT – Nominations Ceremony is over. Ross nominated Omarosa and Keshia.

8:15 PM BBT – Keshia tells Mark she now knows that Omarosa is the source of the problems they're having.

8:25 PM BBT – Omarosa and Ross have a talk. He tells her he was very concerned for her. She says the time away gave her a new perspective. Omarosa says she's really enjoyed this experience and getting to just be around people and hang out, something she hasn't been able to do in a long while. Omarosa tells Ross he could win the game at the end and he should take ownership of the vote-flip with Chuck if he gets to the end. Ross denies it was his move.

8:45 PM BBT – Ross lets Shannon, Ari, and Brandi know that Omarosa seems to be over the vote flip.

8:50 PM BBT – Ari tells Brandi that she'd rather have Omarosa and Keshia in the house but wants for Shannon to go this week. Ari says they should help Keshia win Veto so they have a chance to get Shannon up and out.

8:55 PM BBT – Omarosa says if they get Keshia isolated in the game then she could join their group.

9:00 PM BBT – Ross worries that backdooring Shannon is a shady move as he's seeing it from the perspective of being such a fan of the show. Brandi reminds him the entire game is shady. Ross asks if they got to F3 with Ari would she (Brandi) take Ari over him. Brandi admits that she would. Ross reminds her she's too honest.

10:15 PM BBT – Omarosa tells Ari she's going to fight to win that Veto because she's not ready to go yet. She says she really missed the HGs while she was outside the house.

11:10 PM BBT – HGs are in the back alley enjoying a little outside time while chatting and relaxing. Even Omarosa comes out to join the fun.

12:15 AM BBT – Ross and Marissa agree that BD'ing Shannon is a good move and would be respected. They think they could warn James that she wanted to get him out then he wouldn't be mad at them for the move.

12:25 AM BBT – Ross says he thinks Evel Dick would be screaming at him to get rid of Shannon as a bigger threat than Omarosa. Marissa agrees this is a smarter move. Ross admits they need to do it (BD Shannon). He says they should just go play hard and Marissa agrees you have to do that when the game is so short. Marissa agrees to use the Veto if she plays and wins it. Ross says they need to keep this plan under wraps until it can happen and they know if they can get the votes.

12:40 AM BBT – Marissa and Ross laugh at the idea that Metta could be America's Player.
Think Ross will be willing to pull the trigger on this plan? He's smart to keep this quiet until they figure out the Veto and with part of that playing out live on Monday just ahead of the Live Eviction show this could work out well for him. If he thinks Shannon won't have time to campaign and undo his move then I'd guess it's more likely for him to go for it. We shall see!
You can watch all of these Big Brother events using the archives Flashback, the DVR-like feature of this year's Live Feeds which means it's always live, even when you missed it! Sign-up now to get the free trial to watch it all live & uncensored.

Gallery: Live Feeds Highlights