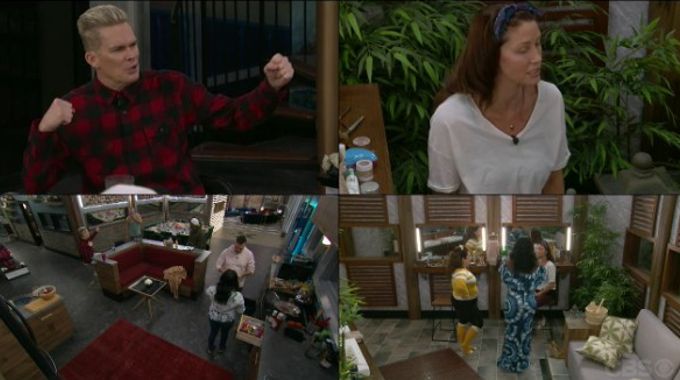 CBS did something awesome today when they surprised Big Brother fans with a sneak peek look inside the Celebrity Big Brother house. Our trusty Live Feeds flashed to life at 2PM BBT (PT) and gave us 15 solid minutes of exciting insight to the newly started game.
Okay, so the action itself wasn't exciting but just the opportunity for this unusual early access was a cause for commotion. And while the Feeds weren't necessarily wild we did get some important details on what could be the first alliance of the season.
So first up, if you don't have your Live Feeds ready to go just yet then now is the time to make that happen. All Access from CBS is what you'll need and that is available in a monthly subscription which works great since in less than a month this series will be over. The cost is $5.99/mo, or about 20 cents a day. Once you're signed up with the 1-week free trial you're ready to proceed.
Download BB Viewer (free), a superior way to watch your Feeds, and login (subscription to All Access still required). Go to Tools -> Bookmarks and then pick "Live Feeds Sneak Peek!" to begin watching which takes you to 2PM BBT (PT). Here's what we've seen so far.
Celebrity Big Brother Live Feed Highlights – Friday, February 2, 2018:
2:00 PM BBT – Mark, Metta, & Chuck are talking about Chuck's fighting glory days. We get to see there's no real kitchen island anymore and it's been replaced by a seating bench with a bar top on it. Weird.

2:01 PM BBT – Aria and Brandi are getting ready in the Tiffany's bedroom. They agree that they're getting along with everyone but do wonder how long before the fighting starts and who will be involved. Brandi expects it'll be her. Brandi asks Big Brother for her meds and the Feeds jump to the bathroom.

2:02 PM BBT – Shannon and Omarosa are in the bathroom chatting about memory tricks. General chatter. Marissa soon joins them.

2:06 PM BBT – Marissa explains to the ladies that when they're in the DR they aren't live on the Feeds.

2:08 PM BBT – Marissa starts discussing with Omarosa and Shannon that there's power in the women sticking together. She thinks that for 2.5 weeks these grown adults should be able to work together. Omarosa says she won't participate in any of the catty behavior. They all three agree that the audience would like to see strong women together here.

2:09 PM BBT – Back in the kitchen Chuck and Mark are still sharing stories. Keshia and James are working in the kitchen when Ross arrives.

2:10 PM BBT – Marissa says she was very nervous heading into the house and fearing high school style cliques (don't worry, that was another BB season), but instead she's been happily surprised by everyone being so warm and friendly. Omarosa made sure everyone had been nice to Marissa and offered to punch them in the face if they weren't. Well, I guess that isn't catty. Kinda.

2:12 PM BBT – Shannon asks if they think any of the women would flip. No one has heard anything. They want to all stick together. Marissa quickly jumps to that if someone does flip then they'll "cut off that limb and still be okay." Omarosa offers a pinky swear to Marissa then Shannon. "I'm solid," promises each of them. That's our first observed alliance of the season!

2:13 PM BBT – Omarosa is trying to come up with an alliance name. They're trying to remember Rosie The Riveter and "We Can Do It" but only get to "Rodie" and "You Can Do It." Close enough. They want to use some acronym for their all-woman alliance.

2:14 PM BBT – Feeds cut!
So we got about 15 mins of Feeds and that was awesome fun even if it was mild. CBS tweeted that they'd probably do more of it so we'll have to keep watching to see when it happens again. No matter what, the Celebrity BB Feeds are set to go live around 9PM PT (12AM ET) on Wednesday night after the season premiere so make sure you're ready!
You can watch all of these Big Brother events using the archives Flashback, the DVR-like feature of this year's Live Feeds which means it's always live, even when you missed it! Sign-up now to get the free trial to watch it all. Reminder: using our links gives us a greatly appreciated referral credit. Thank you!

Gallery: Live Feeds Highlights