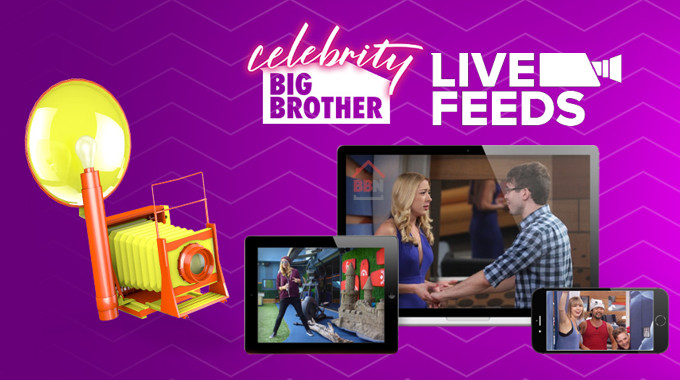 Update: CBS opened up the Feeds for a sneak peek today with more to come! Scroll down for details.
CBS is preparing the return of our beloved Big Brother Live Feeds for the Celebrity Big Brother season with our all access pass to what's going on inside the house and live streaming & on-demand episodes.
Live Feeds allow you to login and watch four different curated camera footage live as it's happening. You'll see what's really going on well before an edited and cut down version appears on television. We'll be able to watch endurance competitions (if there are any), strategy talk, eviction fallout, maybe a showmance (maybe not), and all the ridiculous moments in between that won't ever make it to the broadcast shows. This here is the real Big Brother game versus the version you'll see later on CBS.
You can watch Celebrity Big Brother Live Feeds and streaming episodes of CBB on your phone, mobile device, computer, TV-connected streaming devices, and more. There's no shortage of ways to watch whether you're at home or on the go. We won't tell your boss you're sneaking phones during the day!
Again this season there's a one-week Free Trial that you can use to test things out and make sure it's a good fit, but unless you have tech issues I don't see you getting through the week and not wanting to keep it. Warning: it's addicting! Important note: NO promo code is required for the free week.
After the trial period ends CBS will bill you $5.99/month for All Access, which includes the Live Feeds and can be cancelled at any time. This is a flat monthly rate and the same cost no matter where or how you sign up. The only thing that really matters on your sign-ups is that if you use our links or banners then CBS gives us a referral credit and those help fund this site and our efforts. Thank you for your support!


Try 1 Week Free! Only $5.99 per month thereafter. Sign-up now.
Perhaps the most important point is "when." The Celebrity BB Live Feeds are scheduled to begin Wednesday night, Feb. 7th, following the series premiere's west coast broadcast, so around 9PM (12AM ET). We'll immediately start catching up on what we've missed in the first days.
Signing up now will let you watch the full season within your one-month subscription. Plus you'll be ready to go with your account all setup and nothing to do but click "Live Feeds" on Wednesday night.


Got any questions about watching the Feeds? Post them below and I'll try to help as best I can so you're ready to watch everything inside the house this summer.
Update: CBS unleashed the Feeds today from 2PM-2:15PM BBT (PT) on all cameras. You can rewind to watch if you missed it! CBS says to stay tuned because they'll do more of them soon.
twitter-tweet" data-lang="en">

Missed the action of the Live Feeds sneak peek? Rewind to 2PM BBT & it runs for 15 mins. CBS has teased they may do it again. I bet they will!

Sign up & be ready to watch next time: https://t.co/QoVs3rlorW#CBBUS #BBCeleb pic.twitter.com/nUZZw7fpay

— Big Brother Network (@bigbrothernet) February 2, 2018