The third installment of Celebrity Big Brother premiered Wednesday night, and while it's always exciting to get a new season of Big Brother rolling, I did have some mixed first impressions.
I don't know, it was fun, but I just wanted more from the first episode. I think the premiere should have been two hours instead of this Friday's episode. That Big Brother premiere excitement just wasn't there. Maybe that's a magical feeling that only happens in the summer. Don't get me wrong though, I'm still ready to watch these celebs play Big Brother in overdrive over the next month.
Let's take a look at my first impressions overall.
The Cast
When the Celebrity Big Brother 3 cast was revealed I was very disappointed. I just felt like we got a lot of second choices… like we were expecting NeNe and got Cynthia. We were expecting Lance and got Chris. You know what I mean? But then they entered the house one by one, and I got to see them in action and my opinions changed a bit. I love that the cast is older. We always seem to get a lot better game play out of an older cast. And of course these people are not there for showmances, so that's also a plus. But what really struck me is how most of them seem really eager to play. I think there will be a lot of competition this season and I am ready for that.
I think the standouts at the moment are Mirai, Miesha and Carson. The two women seem to be ready to play, and Carson just kind of makes himself the center of attention. I wonder if the houseguests will tire of that quick. I would like to see Mirai and Miesha work together since they were sizing each other up all night. But I fear they'll target each other instead of aligning.
And it was really fun to see an alliance already form, even if it doesn't withstand that test of time as many night one alliances can't do.
My favorite part of the cast, though, is how no one really knows who Chris Kirkpatrick is. I don't even know if I spelled his last name correctly. I still wonder why we didn't get Lance Bass over Chris. But Chris does know the game well, so that's a bonus. And I like that he's playing it off that he isn't a super fan.
We didn't get a lot from the cast since it was a lot squeezed into one hour, but I'm looking forward to see how some players do a little more than others. I'm really excited to see how Todd, Shanna and Todrick do. Todrick spent a lot of time with the Cookout alliance after Big Brother 23, so I'm sure he has entered the house with a major game plan.
And speaking of the cast, I really wonder why there are only 11 players. I wonder if someone dropped out last minute or if it's a time issue. They have a lot of BB to play in a small amount of time, so maybe that's why. But I kind of hate that there's an odd number of houseguests. But that's my OCD coming out, especially considering it makes for an uneven memory wall.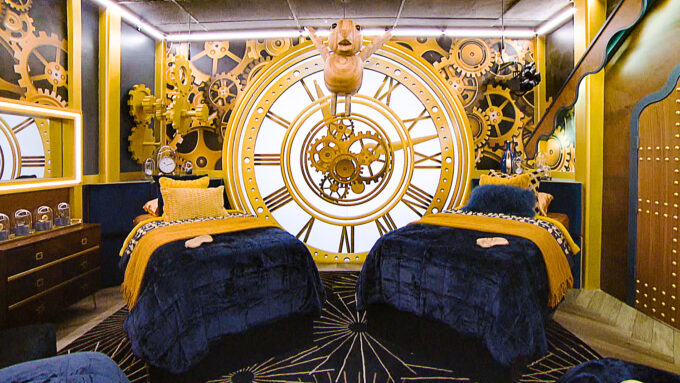 The House
I don't usually take much time obsessing over the Big Brother house, because it's that same old house since Season 6. But this season, I kind of love the house. I really love that they ditched the spiral staircase for a more grand one. I love the ski lodge feel. I think what I like most though, is they didn't go overboard trying to make it look "rich" for the celebrities. I am never a fan of all the fake-looking gold. I think this season the house looks rich without trying to look rich. So good job to those designers.
The Twist
We don't know exactly what the twist is yet, but Julie said it would give someone power. She specifically said it would be blessing for one person and a curse for another. So that worries me. I don't like the idea of there being too much power in Big Brother even when there are 16 houseguests, so I REALLY don't like the idea of that when there are only 11.
Overall
So far, I'm pleased with Celebrity Big Brother 3. I'm happy I didn't find the cast as boring as I had feared. I am a bit annoyed we don't get the Live Feeds until this Friday (and I really wonder why since we were supposed to get them tonight). But overall I'm going to stay optimistic. A shortened season of BB is never a bad thing. I kind of love it in smaller doses. That entire summer of Big Brother can get to be a bit much.
What were your first impressions of Celebrity Big Brother 3?