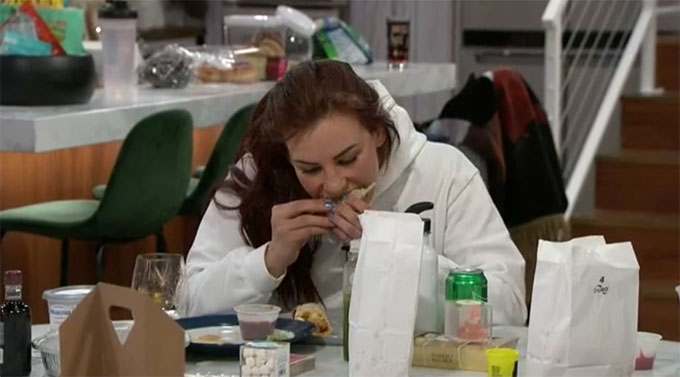 It was final eve in the Celebrity Big Brother house, and it sure felt like it. Most of the day, the Final 3 spent napping, and without the regular season final HOH competitions to be played, there was little game to be discussed either. Todrick did, however, express his anxiety over Shanna and Chris Kirkpatrick working against him while they've been at home (what he doesn't know is the entire jury seemingly feels the same way those two do).
Join us now for our final Feed Highlights Report of the CBB3 season as we wrap everything up today and say farewell to the bonus winter season!
If you've got the Live Feeds (Free Trial) then you can watch all of these moments with the Flashback feature to go back and watch those important conversations or funny scenes you may have missed.
Celebrity Big Brother 3 Live Feed Highlights – Tuesday, February 22, 2022:
9:15 AM BBT – Todrick is up walking around. Cynthia and Miesha are still sleeping.

9:45 AM BBT – Big Brother has given Miesha and Cynthia a wake-up call. Todrick is pacing around upstairs practicing his F2 speech.

11:00 AM BBT – All the houseguests are up and in the kitchen reflecting on the season.

11:10 AM BBT – Todrick asks Cynthia why she hesitated when he asked her to be in a F3 with them (T&M). Cynthia says that she didn't realize what was going on because she had never heard of a F3 before.

11:20 AM BBT – Todrick tells Cynthia that he thought she had a deal with Todd, but Cynthia said that Todd didn't start talking to her about anything game until the very end. She tells him that they tried to make a deal with her, but she felt like a third-wheel and that she would be next to go so she didn't take it seriously.

11:40 AM BBT – Todrick talks about how he was the only one that had to break a tie this season. He also mentions that he was trying to get Todd to keep nominations the same. Cynthia says that it happened the way it was supposed to and she told Todd to vote her out because Lamar was his friend. She mentions being worried that Miesha was going to vote her out.

12:35 PM BBT – Cynthia thanks Miesha for helping her and coaching her through falling off the wall. She mentions that she is really proud of herself because she was able to face a lot of fears inside the house, including her fear of heights. Miesha tells her that she is proud of her too.

12:50 PM BBT – Cynthia is telling Todrick and Miesha about how her modeling career started at a homecoming queen pageant in Atlanta.

1:25 PM BBT – Miesha tells Todrick and Cynthia that it's really nice to be able to hear Cynthia talk about her career without someone walking in the room and making it about themselves.

1:55 PM BBT – Todrick mentions to Cynthia that he wonders if he will have the votes against Miesha. He is worried if Shanna poisoned the jury pool like she said she would. Cynthia doesn't think that Shanna had a leg to stand on with that.

2:03 PM BBT – Todrick wonders if he can get Lamar, Todd, and Teddi's votes. Cynthia thinks that he has those votes.

2:07 PM BBT – Todrick is explaining to Miesha and Cynthia how the final HOH works in a regular season of Big Brother.

2:35 PM BBT – The F3 are sitting in the kitchen playing solitaire and chatting. Not much going on.

2:38 PM BBT – Cynthia told Todrick and Miesha that Shanna and Chris Kirkpatrick said that Todrick is not a good person. Miesha says that is one of the worst things you can say about a person. Cynthia said she was so confused by that because she couldn't understand what he had done to make them say that.

3:50 PM BBT – They have given the Final 3 a T-shirt making kit to give them something to do.

4:42 PM BBT – Todrick and Cynthia agree there's not enough money to get them to live in the BB house for three whole months.

6:13 PM BBT – HGs have been napping but Cynthia finds that there's been a dinner delivery made to the storage room.

6:30 PM BBT – Everyone is having dinner.

7:03 PM BBT – Todrick reminds Miesha that the Live Feeds go off Wednesday morning.

7:38 PM BBT – Cynthia asks if all three make a speech or only the final 2. Todrick tells her only the Final 2 give speeches.

7:41 PM BBT – Todrick explains to Cynthia that in regular BB, everyone really wants to make jury. He tells her not everyone gets to vote in a regular season. He also explains that the jury can't talk about game in the jury house, but the celebrities can go home and talk about it all they want.

8:30 PM BBT – Miesha and Todrick are packing things up. Cynthia is napping.

8:41 PM BBT – Todrick tells Miesha that he looked at the memory wall thought back about what he's done to all of them and he thinks no one would vote for him but has no idea what they think of Miesha. He said if they weren't on the same team it would be more clear, but since they worked so closely together, it's hard to say. "But for whatever reason, they haven't been pissed at you like they have me," he tells Miesha. He says he just can't come to any sort of conclusion on how people will vote. He says he doesn't even know if Mirai would vote for him. He tells Miesha that he thinks she'll have more votes than he will.

8:46 PM BBT – Todrick says he doesn't care if he has Shanna and Chris's votes, but he's got anxiety about them talking to the rest of the jury about him. Miesha says this isn't high school and they're all grown up. She says Shanna shouldn't stoop that low.

8:50 PM BBT – Todrick claims the things/lies they told in the game were very true. He doesn't believe they even exaggerated much to make Shanna the sudden target.

10:20 PM BBT – Todrick practicing his F2 speech with Cynthia. He's highlighting his "superfan" claims again. He says he had intended to backstab when he came to the house but then changed to playing a game of honesty and loyalty because he could see that's what they valued most.

10:25 PM BBT – Todrick feels he should win because it's not about comp wins but how you handled yourself and gameplay for all the rest of the time in the house.

10:30 PM BBT – Todrick vows to use the $250,000 to create art for the LGBTQ+ community.

11:00 PM BBT – Todrick explains he has to travel separately from all his many dancers to avoid being accused of things. He's surprised he doesn't get sued more.

11:25 PM BBT – Cynthia, Miesha, and Todrick discuss Shanna and feel she left the game poorly. Todrick hopes Shanna will admit she was wrong and ask fans for forgiveness.

11:35 PM BBT – Todrick, the superfan, says Day One Feeds would be boring and no one wants to watch that. Miesha agrees no one wants to watch the show and Feeds start at the same time.

12:00 AM BBT – Todrick says the hardest move this season was turning on Carson. He felt Carson needed to go and no one could beat him at F2.

12:10 AM BBT – Cynthia says she was confused when Shanna used the Veto and Kirkpatrick was renom'd. Todrick says he thinks Kirkpatrick was a traitorous coward and disloyal. He thinks Kirkpatrick believes his own lies.

12:50 AM BBT – Todrick explains that he called Tamar and Kandi for advice when he knew he was coming on the show. Tamar advised him to accept alliance offers and then sort it out later.

1:15 AM BBT – HGs heading off to bed.
And that's it! Todrick is in for a rude awakening, but then again Todrick will never believe he did anything wrong and continue to live in his own echo chamber. Meanwhile, the HGs are getting ready to face the Jury after one more competition in the live finale. We'll soon find out who won Celebrity Big Brother 3!
You can watch all of these Big Brother events using the archives Flashback, the DVR-like feature of this year's Live Feeds which means it's always live, even when you missed it! Sign-up now to get the free trial to watch it all live & uncensored.


Gallery: Live Feeds Highlights
Download our Big Brother App, join us on Facebook & Twitter, and get our Email Updates for more!