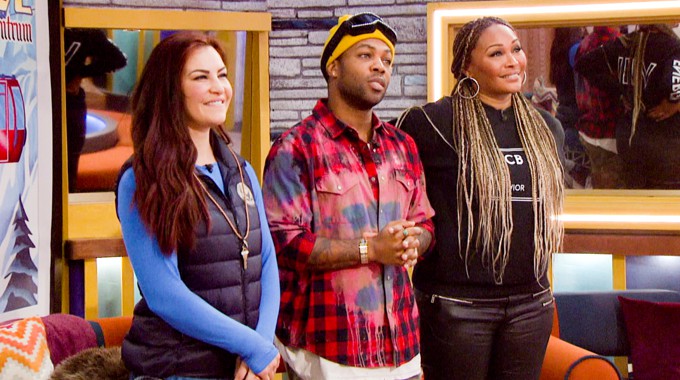 The Celebrity Big Brother finale is just one day away, and either Miesha, Todrick or Cynthia will become the third winner of the Big Brother spin-off series.
At this point in the first two seasons, we still have five houseguests left, and it was much harder to pinpoint who should and could win. But with this season already down to the Final 3, and a pretty obvious frontrunner, it's going to be a much easier task. So let's get right into it.
Who Should And Could Win Celebrity Big Brother 3?
1. Miesha/Todrick
I have to make this season's power duo an actual tie for first place. Despite how much it pained me, I really sat back and examined both of  their games, and they really balanced each other out pretty well. Normally when there's a duo like this, there's a much weaker player (think Memphis to Dan), but Miesha and Todrick might be one of the strongest pairs since Big Brother 3's Danielle and Jason. Now I'm not comparing them to those two legends by any means, so no need to light the comments section on fire. I'm simply saying that the two really have a pretty equal Big Brother resume. Both have competition wins, both had the same strategy, and both had a terrible social game. But if we want to pull out the fine tooth comb, magnifying glass or whatever other cliche works here, I think Todrick might just top Miesha in that bad social game category. Which brings me to the next question.
Could Miesha or Todrick win? I'm going to say at this point, Miesha can definitely win if she's sitting next to Todrick, and that really seems what we are going to see as the Final 2. Todrick, however, has burned EVER SINGLE JURY VOTE. And they're all over social media about it. Even Chris Kattan wouldn't vote for Todrick if he was allowed to vote, based on his recent social media posts. So I think Todrick loses in any scenario. But I think Miesha wins in any scenario. She might not get as many votes sitting next to Cynthia, but I think the majority would reward her with the win over Cynthia. Maybe?
3. Cynthia
I can't with a clear conscious say Cynthia should win Celebrity Big Brother. I don't think I could say she should win a raffle ticket drawing at this point. Not after the way she played this season. She's had zero competition wins, no strategy, and if those two thing weren't bad enough, the way she handled the Shanna situation was not only embarrassing, it was humiliating. The way she didn't even CONSIDER Miesha and Todrick could be exaggerating the situation for their own gain was astounding. I know a lot of us would much rather anyone other than Miesha or Todrick to win this season, but I personally can't say that should be Cynthia. Todd would have been a GREAT option. Especially with how he's played the game the last several days. But it's too little, too late for Todd.
Could Cynthia win? I actually think so at this point. BUT only if she made it to the Final 2. And let's face it, she's not making it to the final 2. Unless Todrick wants to really make a dramatic statement and cut Miesha at the end. But I really don't see that happening. But if he were to make that silly move, I think Cynthia could surely win. On the other hand, I think if Miesha were to cut Todrick and take Cynthia, that would secure the win for Miesha even more than it already is. So I think Cynthia's only option for winning is next to Todrick. But then again, maybe this jury won't appreciate her game any more than Todrick's. I guess I should also say that if Cynthia does surprise me, and by some miracle win the final HOH competition, then she can definitely win the whole thing. Her pulling out that win when it matters the most and sitting next to the two least popular HGs this season could definitely work in her favor.
So while it's really anyone's game (except Todrick's), I think Miesha should win Celebrity Big Brother. And she definitely could and most likely will. But Todrick played the game just as hard, despite how much we disagree with his tactics. But I think being completely objective here, Miesha still outplayed Todrick by at least half a point. What do you think? Who should and could win CBB3 on Wednesday night?