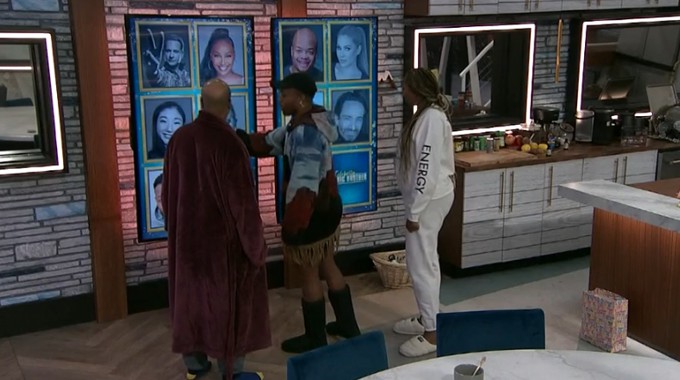 Saturday in the Celebrity Big Brother house ended up being busier than we expected after a slow day of Feeds turned into Nominations spoilers and then a surprise Veto competition. We've got the results of both and now the HGs are looking ahead to what that means for the final noms and the mere two votes at Monday's live eviction. Read on for the highlights from Saturday on the Feeds.
If you've got the Live Feeds (Free Trial) then you can watch all of these moments with the Flashback feature to go back and watch those important conversations or funny scenes you may have missed.
Celebrity Big Brother 3 Live Feed Highlights – Saturday, February 19, 2022:
9:00 AM BBT – HGs get their wake up call.

10:00 AM BBT – Slow start to the day.

10:20 AM BBT – Lamar is playing cards in the kitchen.

1:05 PM BBT – Cynthia tells Todd she's going to play hard for the Veto. She says she needs to finally win something. Todd says he may not try for the Veto even if he's on the Block. He's okay not winning.

2:05 PM BBT – Feeds cut for the Nominations.

3:04 PM BBT – Feeds are back. Lamar and Todd are on the Block.

4:00 PM BBT – Miesha and Todrick playing cards.

6:00 PM BBT – Feeds are back from an extended Pet Loops. Veto medallion is on the table… Turns out the Veto comp was played and Todd won it.

6:30 PM BBT – Todrick and Miesha discuss if it'll be Todd or Lamar who goes. He thinks they can talk with them and see who they decide should be evicted if either of them wants to. Todrick doesn't want to have to renom Cynthia and hopes Todd won't make him do that.

7:10 PM BBT – Todd and Cynthia discuss Jury votes. He thinks he has a good shot if he can get to F2. Cynthia doesn't think she could get the votes.

7:15 PM BBT – Todrick and Miesha discuss the possibility in the next round that one of them could go if the wrong HG wins Veto.

7:40 PM BBT – Big Brother has delivered sushi, margaritas, and cake for Cynthia's birthday.

8:20 PM BBT – Todd tells Lamar his plan if he wins HOH, is to nom both Todrick and Miesha.

8:22 PM BBT – Todd asks Lamar if he wants to stay or if he should vote him out. Lamar doesn't quite follow. (Todd will be voting after he uses the Veto on himself.)

10:00 PM BBT – HGs lounging around.

11:05 PM BBT – Todd talking with Lamar again and asks him what to do about the vote. He reminds Lamar that if there's a tie between his vote and Miesha's then Todrick will break it.

11:20 PM BBT – Miesha and Todrick discuss who would get evicted if Todd wins HOH next. Miesha says Cynthia would vote her out over Todrick.

12:00 AM BBT – Todd and Cynthia chatting about making it to the end.

1:05 AM BBT – Cynthia says she'd vote for Todrick over Miesha at F2, but she'd pick Todd over Todrick.

2:00 AM BBT – Todd and Cynthia head to bed while Todrick stays up playing cards in the HOH room.
Todrick may be hoping that Todd won't use the Veto so that he won't have to renom Cynthia, but no chance. Todd will save himself and Cynthia is about to go up. It won't be just up to Todd though so he will probably coordinate that vote with Todrick/Miesha to avoid the tiebreaker. We'll see what happens on Monday night's eviction show!
You can watch all of these Big Brother events using the archives Flashback, the DVR-like feature of this year's Live Feeds which means it's always live, even when you missed it! Sign-up now to get the free trial to watch it all live & uncensored.


Download our Big Brother App, join us on Facebook & Twitter, and get our Email Updates for more!