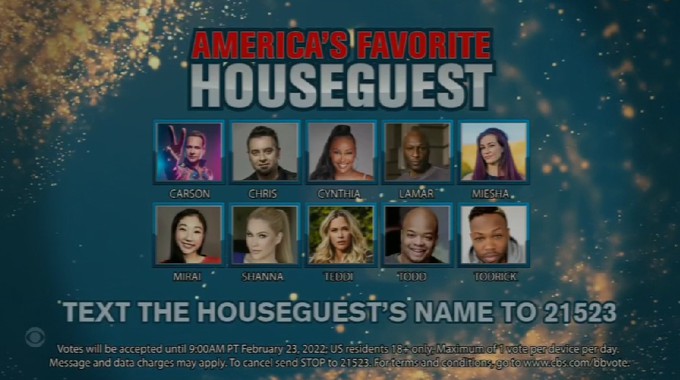 Voting is open for America's Favorite Houseguest on Celebrity Big Brother and that means it's your chance to help award your fav a bonus $25,000.
So just like we've seen in recent regular Big Brother seasons, there is no online voting for CBS and instead, it is all texting for votes. You get one text a day per phone # and the deadline is Wednesday, Feb. 23rd at 9AM PT (12PM ET).
Make your choice based on whatever you'd like for whatever reason. Vote on who you think played the best game, made you laugh the most, or who you want to see get an extra reward for this season of Celebrity Big Brother 3. Whatever you want.
Instructions are simple: Text the HG name to 21523 using the names just as they're listed below:
Carson
Chris
Cynthia
Lamar
Miesha
Mirai
Shanna
Teddi
Todd
Todrick
You probably noticed that Kattan isn't included. Since Chris had to quit the game it seems he forfeit his chance at the bonus money too. Of course that helps eliminate the two Chris names on the list.
Who do you want to win Favorite Houseguest? Vote now in our unofficial poll below (does not count towards official results) and share your thoughts in the comments section.
Don't see the poll? Click here to refresh.
Keep checking back to see how these votes go and we'll tally things up on Wednesday ahead of the season finale (8/7c) and see if we can predict who wins the AFP bonus prize.