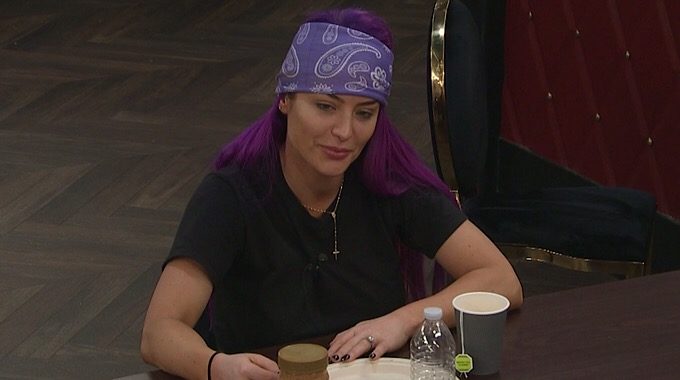 A late POV competition on Celebrity Big Brother 2 brought in some exciting results that could really switch up the game if used the right way. At some point today, we will find out what happens at the POV Ceremony and which Celebrity Big Brother HG is in danger of going home. Find out what the POV winner is talking about doing on the Celebrity Big Brother live feeds!
Last night the HGs in the Celebrity Big Brother 2 house competed in the Power of Veto comp. Tom had a plan in place where they would win the POV, take Joey down and then BD Ricky this week. However, when two of your alliance members don't want to BD another one of your alliance members, things get shaken up a bit.
Natalie won the POV last night and her and Lolo have been very vocal about not wanting to BD Ricky. Natalie was talking to Lolo, Natalie, and Ricky right after the comp and told them she was not using the POV. She added that there was no way she was allowing Tom to dictate how they play the game. At this point, Natalie, Lolo, and Ricky are perfectly okay with severing all ties with Tom and Kato going forward.
Natalie and Lolo have a huge decision to make though. Are they going to vote for Joey to stay or Kandi to stay? They would only need to convince one more person to vote with them. If they decide to keep Kandi, Tamar already said she would like to see Kandi stay over Joey. If they decide to keep Joey, they would most likely be able to get Dina to vote with them to keep Joey. This is also dependant on Ricky, Lolo, and Natalie being able to agree on a game plan going forward.
Make sure you come back later on for the POV Ceremony spoilers! What do you think Natalie should do with the POV? If she sticks with the plan to not use the POV, who should be evicted?
Download our Big Brother App, join us on Facebook & Twitter, and get our Email Updates for more!