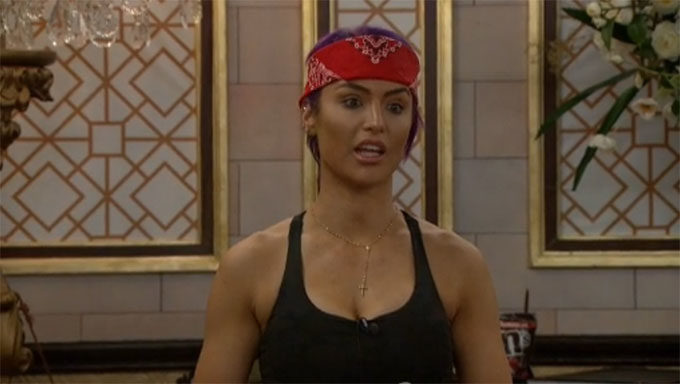 The Power of Veto was played in the Celebrity Big Brother house Wednesday night, and the winner might just be going against Tom's wishes this week. Read on to find out who won and what the plan is for when the veto ceremony comes around.
Don't miss your chance to watch along with us. The season is just getting started and that'll run less than a month (check the schedule) so you can watch all the fun for less than $6.
If you've got the Live Feeds (Free Trial) then you can watch all of these moments with the Flashback feature to go back and watch those important conversations or funny scenes you may have missed.
Celebrity Big Brother Live Feed Highlights – Wednesday, January 30, 2018:
3:07 PM BBT – Joey tells Tamar, Lolo, and Natalie that he's with them and if they can get Ricky then they have the five together.

3:10 PM BBT – Joey offers to leave the nominations alone if he wins Veto to prevent a BD. He says they should do the same if any of them win it.

3:25 PM BBT – Ricky tells Natalie and Lolo they could stick with the 5 (with Tom and Kato) and get rid of Joey. The women say Tom is just keeping Joey to get him out next week.

3:32 PM BBT – Natalie is unsure about keeping Kandi over Dina but Tamar says Dina is much more dangerous.

3:55 PM BBT – Joey explained to Ricky the plan to keep noms the same and vote out Kandi instead. Ricky tells Joey he trusts him. Joey pushes for Ricky, Natalie, Lolo, and Tamar to be a five-HG alliance.

4:00 PM BBT – Ricky tells Natalie he's good with Joey for the week. He suggests if they win HOH next round then they need to make a new 5 group.

4:10 PM BBT – Kato reports back to Tom that he went into the Lounge and found Lolo and Natalie with Ricky. Tom says if everyone is chickening out then he's fine with voting out Joey instead of Ricky.

4:15 PM BBT – Joey complains to Ricky that Kato and Tom were talking down about him (J) by saying he was handled. Joey says he wouldn't take like that about the others.

4:25 PM BBT – Tom asks Natalie who she wants to vote out and if it's not Ricky should it be Joey. Tom explains he wanted to save Joey to make him happy, vote out Ricky so he's gone, and then Kandi would be happy for being spared. Natalie says she doesn't know what Lolo wants to do. Tom asks her if she can go check.

4:27 PM BBT – After Natalie leaves Tom tells Kato he could say he was going to BD Tamar so they save Kandi and then BD Ricky instead.

4:27 PM BBT – Natalie goes back downstairs and tells them what all Tom and Kato were saying to her. Ricky encourages Natalie to go back and tell them this isn't the right time to BD Ricky.

4:35 PM BBT – Lolo warns Tom that the house is upset with him over his detective work yesterday. Tom says that's okay as long as she and Natalie aren't mad at him. Lolo says she's not.

4:37 PM BBT – Tom presses again for an answer. Lolo says she and Natalie would like to keep Ricky another week. Kato worries Ricky might turn on them but Lolo says he would have done that by now if he was going to do that.

4:47 PM BBT – Lolo asks why Tom keeps asking her to prove her loyalty. Tom says he's showing he trusts her by letting her choose what to do.

4:50 PM BBT – Tom and Kato believe Natalie and Lolo are being honest with them. (Nope.)

5:00 PM BBT – Kato and Tom continue to debate how to handle the renom situation if that happens. Kato suggests Tamar as the renom. Tom worries she'll go crazy.

5:05 PM BBT – Natalie and Lolo debate the Tom situation. Natalie thinks they should avoid winning the Veto. Lolo is sure Tom would flip on them and BD either of them so she wants to win it.

5:10 PM BBT – Tom decides it's more important to keep Natalie and Lolo happy than to try and get out Ricky.

5:10 PM BBT – Natalie and Lolo agree that Joey did an impressive job to turn the house against Tom so quickly. Lolo suggests Joey might be the strongest player in the game right now.

5:30 PM BBT – Veto comp is underway.

9:16 PM BBT – Feeds have returned.

9:23 PM BBT – Natalie has won the Power of Veto.

9:28 PM BBT – Lolo keeps saying she could have won veto but she wanted Natalie to win.

9:30 PM BBT – Natalie tells Lolo and Ricky that she is not using the veto. She says there's no way she's letting Tom and Kato run their game. Natalie says she's just going to tell them she's not using it when they ask. She says she'll say that as part of that group of five, she's not comfortable using the veto to backdoor one of her own teammates.

9:50 PM BBT – Tamar asks Lolo and Natalie what their plan is after this week if they keep Joey. Natalie says they'll figure that out later. Tamar doesn't want Kandi to go over Joey.

10:05 PM BBT – Natalie is annoyed with Tamar asking about Joey. She says Tamar is never happy. Lolo says Tamar can go before Dina goes. Natalie wants to know why Tamar is suddenly wanting to keep Kandi. Lolo says it doesn't matter because there's no way that's happening.

10:26 PM BBT – Lolo and Natalie trying to justify turning on Tom and Kato. Lolo says they've asked them too many times if they're with them and Natalie likens it to a cheating boyfriend who keeps asking if you're the one cheating.

11:15 PM BBT – Tom camtalks and says he has had a change of heart on the plan and hopes it doesn't blow up in his face but jokingly adds that going out in a blaze of glory is fun too.

11:55 PM BBT – Lolo is excited to discover her hair is back as she wanted it (after the green goop from the HOH comp).

1:05 AM BBT – Lolo chats with Tamar and Ricky. She's concerned about all the BD planning because it could become a repeating method and endanger them.

1:10 AM BBT – Kandi mentions the comp was physical and suited for someone with good kicking skills.

1:20 AM BBT – Natalie mentions production asked her to stop wearing her bikini.

1:30 AM BBT – HGs are off to bed.
Another busy night for Tom as he struggles with the nominations, Veto, and this twist. If Natalie holds to her word then she won't be using the Veto and we're already looking at our finals noms of the week with Joey and Kandi. Several more days to go before the next eviction on Saturday.
You can watch all of these Big Brother events using the archives Flashback, the DVR-like feature of this year's Live Feeds which means it's always live, even when you missed it! Sign-up now to get the free trial to watch it all live & uncensored.

Gallery: Live Feeds Highlights