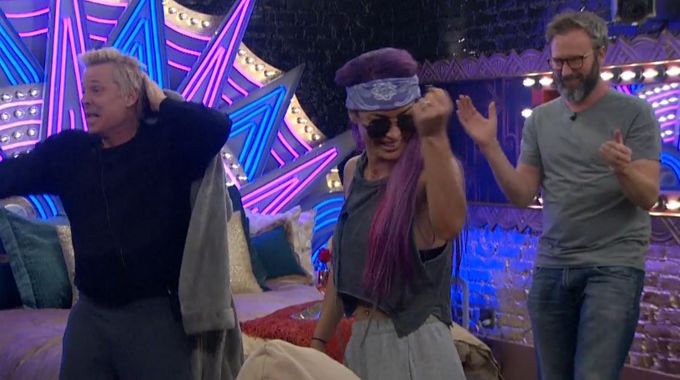 A new Head of Household was crowned for Celebrity Big Brother and we've got the latest on where we expect things to go in the next round of nominations on CBB2. While the sign hasn't hit the screen yet for "Nominations Today" the next episode is scheduled for Sunday night so they'll need to keep things moving along.
Unlike last round with three nomination spots and multiple rounds of that this time there will be just two on the Block and that's enough, right? Poor Ryan and his nomination after nomination shouldn't be an issue this time around.
Kato took the win on The Wall last night and near the very end, he had offered Joey safety. When he did that Dina shouted out for Joey to stay in the competition. Kato took that as an attack. Oops. Whether or not Dina was suggesting that as opposition to Kato winning or simply an encouragement to Joey to keep playing I think it may have earned her a spot on the Block. Kato has said as much so far so that should be an easy one to predict.
So who gets the second spot? Tamar is sure it's her and maybe it is. Ryan thinks it could be him, ehh, maybe but if Ryan ends up a target this week I'd watch for him to be a Backdoor plan instead. And even though Joey turned down Kato's offer of safety to drop it sounds like Kato still plans to honor that.
Right now it seems likely Tamar will be Kato's second nominee next to Dina. He discussed this last night with Ricky and Tom was good with the idea too. Watch for this to be made official later on Saturday.
We'll have the spoilers as soon as things are revealed on the Feeds. Download our Big Brother App, join us on Facebook & Twitter, and get our Email Updates for lots more Big Brother coverage.
Did you know you can get a Free Trial to check out the Live Feed in-house cameras for Big Brother? Watch any moment from the season both live and in the past with the Flashback feature.