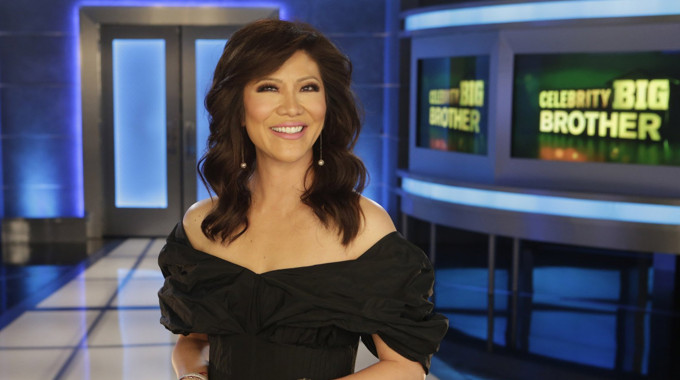 Julie Chen is getting us ready for Celebrity Big Brother and the upcoming celebrity cast release. Supposedly we'll get that cast announcement tonight sometime during the Grammys since it's on CBS, but I'll be surprised if it's actually part of the event but more likely a commercial in between. Either way, we'll be ready for the big reveal whenever it happens.
Update: The Big Brother Celebrity Cast is here! Meet all 11 Houseguests right now!
While we wait though, Julie has tweeted out a cryptic list of emojis which likely represent each of the cast members. If so then we should expect eleven Houseguests, one more than seats at the dining table. First night elimination could be in the cards for Celebrity Big Brother!
Check out Julie's message here and see what you think is hidden in her clues:
twitter-tweet" data-lang="en">

🎭
🗣
🎤
📺
🥧
🏀
👑
🥋
⏰
🌴
💼#BBCeleb
Coming Feb 7

— Julie Chen (@JulieChen) January 27, 2018
So let's see. We've got the comedy and tragedy masks, so an actor/actress probably. A talking head, so someone from a talkshow or a pundit perhaps. Singing mic, so an acrobat, I kid. A musician most likely. TV = another actor/actress, but from TV. Anyone not expecting CBS to plug at least one of their own stars should get ready. I'd have voted for Bobby Moynihan. (Update: I was reminded that Bobby's CBS show was recently pulled from the schedule, so he might be an unlikely fit for promoting their TV lineup.)
Moving along we've got a pie piece. Patti LaBelle?? Okay, maybe just someone from the food industry. A celebrity chef, etc. Now that'd be a good skill for keeping yourself popular in the house! Next we've got a basketball, so an NBA (active/retired) player or maybe that's just a generic athlete representation. Then a crown… dunno. Probably not the Duchess of Cambridge. Maybe just someone who considers themselves royalty of some niche.
The next emoji is a karategi (martial arts robe). Now that could maybe, possibly be connected to Matt Iseman (host of American Ninja Warrior) who tweeted an interesting teaser outside Big Brother's Studio 18 just a few days about. Maybe he was just trolling us or that could be serious.
Last three emojis are a clock, palm tree, and briefcase. So we've either got someone very punctual, Cogsworth, or maybe Flavor Flav or an associated figure. Then the rumor was we'd see a Survivor contestant (that's not very celebrity-ish, but okay) which could cover this one. Lastly maybe a business industry figure. Anthony "The Mooch" Scaramucci's name has floated around for quite a while and could fit that bill.
Okay, there's my pass at Julie's list of Celebrity cast teasers. What are your guesses? Share below and then let's get ready for the real cast release and the season premiere of Celebrity Big Brother starting Wednesday, February 7th on CBS and CBS All Access!
While we wait, check out our first look at the new house design then join us on Facebook & Twitter.
Gallery: Celebrity Big Brother House Revealed