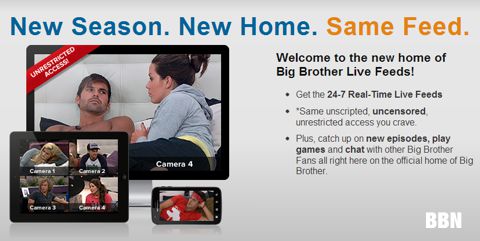 Update: CBS has released details for the new Live Feeds! Read the full report here.
Big Brother 15 will start in just over a month on June 26, 2013 and fans are ready to find out more about this season's Live Feeds program and what to expect.


Receive notifications on the Big Brother Live Feeds:
In early April we learned that CBS had parted ways with RealNetworks after thirteen years and would instead be offering the Feeds directly through their own sign-ups. This offered up a lot of questions both around our team and among our readers. Will the cost change? Can Canadians still view the Feeds? Will there be an Early Bird rate? Are they going to blackout the Feeds more often?
Some of these questions were addressed in our original article explaining the Big Brother 15 Live Feeds situation, but more questions were left unanswered.
Luckily we had been put in contact with CBS' Interactive team, the folks who would be managing the 2013 Feed experience, so I reached out again to them on Friday in hopes of more details.
"We are close," our contact said in regards to the release of links and details for the Big Brother Feeds program.
When I pushed for a confirmation of at least the annual favorite "Early Bird" pricing, a discounted rate for early subscribers, I didn't get a response.
So with just a month to go we're still anxiously awaiting details to share with you on the upcoming season of Feeds and just how all of that will go. We're sincerely hoping for the early bird rate and some sort of season pass pricing, but as of now we know as much as you do. There will be Feeds in some fashion, costing some dollars, and available to some people. Yep, that sums it up!
Make sure you get all the Big Brother 15 details when they're released by joining us on Facebook, Twitter, and by Email to have those updates sent directly to you as soon as we know more.