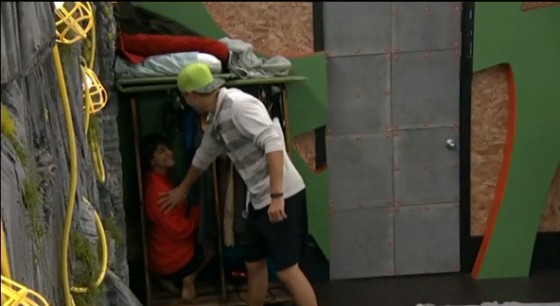 It's definitely that time of the year when the Big Brother 16 Live Feeds slow way down. With only three house guests left (who actually get along), there's not a lot going on. For example, one of the most entertaining moments of the day was a game of hide and seek. Find out what else happened on the Big Brother Feeds in the house yesterday.
Big Brother 16 Live Feed Highlights – Thursday, September 18, 2014:
8:01 AM BBT – Feeds cut. Time for the house guests to wake up.

8:23 AM BBT – Feeds return. HGs are actually up. Cody and Derrick in the kitchen talking about Caleb and how he'll soon learn what has been going on.

8:50 AM BBT – HGs are called to the Head of Household room for a lockdown. Derrick says they'll be locked down for 45 minutes.

9:00 AM BBT – Feeds cut. Highlights come on.

12:09 PM BBT – Feeds return. HGs had their Memory Lane brunch.

12:45 PM BBT – Derrick and Cody are studying for facts about the game to help Derrick prepare for the second part of the final Head of Household competition.

1:30 PM BBT – HGs sleeping/resting.

3:45 PM BBT – HGs are awake. Nothing much going on. Talk of past HGs and Derrick says his hand hurts from the endurance part of the HOH competition.

5:00 PM BBT – They're so bored they decide they're going to play hide and seek.

5:10 PM BBT – Derrick and Cody go to hide in the diary room and Victoria can't find them.

5:13 PM BBT – Victoria goes into the DR to find them. It's weird seeing the Diary Room on the live feeds.

7:26 PM BBT – Derrick finds playing cards and a game in the storage room. The HGs are excited to have something to do.

8:00 PM BBT – HGs are playing games and talking. Not much else to report on.

10:15 PM BBT – Cody goes to bed.

10:50 PM BBT – Derrick and Victoria are playing games by themselves.

10:55 PM BBT – Derrick and Victoria talking about Victoria throwing the competition. She is afraid Cody heard them talking.

11:30 PM BBT – Derrick promises Victoria that he's got her back when it comes to keeping her or not.
It's funny to think Derrick could be concerned enough have to discuss Victoria throwing the comp, but I guess you don't want to leave anything to chance. If she's willing to do it, go for it, but is that necessary? Considering their track records this season, I would hope not.
You can watch all of these Big Brother 16 events using the archives flashback, the DVR-like feature of this year's Live Feeds which means it's always live, even when you missed it!
click images to see full-size