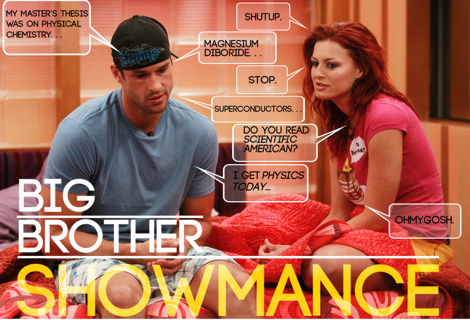 Hang on to your butts, Brenchel fans, because CBS isn't done with the biggest drama inducing Big Brother 12 showmance just yet. According to Soap Opera Digest (what?), the duo that could only have been crafted up in a mad scientist's lab will be back next month for an appearance on The Bold and the Beautiful:
BIG BROTHER 12's Rachel Reilly and Brendon Villegas are appearing on Oct. 25 and 26 as a Bikini Beach waitress and bartender. The pair will be in scenes with B&B's Hope, Liam, Bill, Katie and Amber.
Two thoughts. 1) Ragan must be rolling around on the ground laughing at Rachel's role. 2) Isn't Rachel all about Vegas (landlocked), but she's a beach waitress. I'm just not convinced that I'll believe her in the character!
Perhaps more importantly, which of you think you can out-do Brendon or Rachel on Big Brother 13? You did start applying already, right??
Hat tip to Branden at HWHills.com for the info!