We've enjoyed checking up on the Big Brother 16 Houseguests in the off-season and they've enjoyed sharing lots of fun photos of their adventures and get-togethers. Here's the latest on what the Big Brother HGs have been up to in January & shared online through Twitter & Instagram.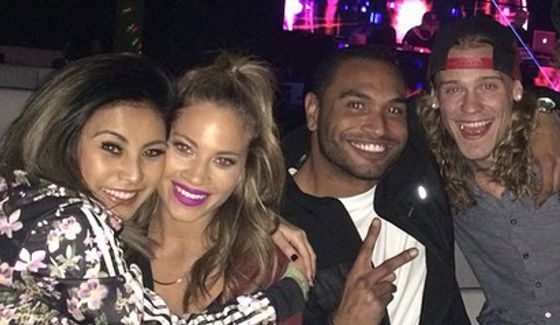 January was a busy month for a lot of the Houseguests with some surviving the cold and others staying far, far away from it. We found Derrick out playing in the snow with his daughter Tenley while his former ally, Cody, was cozying up with Brittany. Did those two finally go on a date??
Speaking of dating, Caleb and his new girlfriend Ashley Jay were showing off the fruits of their gym efforts and spending time together. Caleb also just announced that he had been picked up as a sponsored athlete with "Advanced Nutrition Systems 24/7" so kudos to him on that.
Nicole traveled to New York City sans Hayden to see Frankie's play before it ended. Nicole probably inspired him to fly to Africa and build a school, but what good is it if they can't fit inside?
Back stateside, Hayden, sans Nicole, hung out with Devin and Amber when they went to support Paola when she was DJ'ing. Amber was busy too with an appearance on America's Funniest Videos and more importantly, hanging out with J-U Double D for lunch. Okay, the latter might not be as important as being on TV, but it's up there, right?
Check out the Big Brother photos below and see what some of the BB16 HGs were up to this month.
click images to see full-size views
Update: Our long national nightmare is over and the panicked public can rest now. I found more photos of HGs who attended Frankie's show. But seriously, if you're going to find it worthwhile to freak out over photos that you've found, but I didn't, then at least tell me where they are since it should be a passing thought that they weren't included because I didn't see them. Sheesh.
Source: Twitter & Instagram