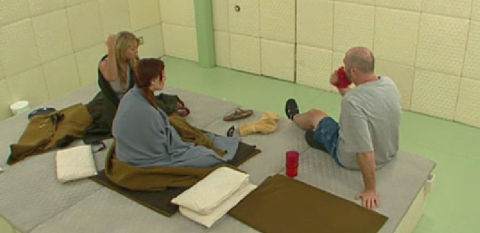 After this weekend's wild ride with Pandora's Box we're ready to move on to the next Big Brother 13 Veto ceremony this afternoon. There's really no way around what's going to happen, but here are the latest updates for what to expect later today and what it likely means for the rest of the week.
As a result of the duos twist, thanks to Porsche possibly trading $500K for $5K, and Rachel's win on Saturday night we're going to be looking at a nomination swap. Rachel will most definitely use the Veto to take herself off the block along with Jordan. The only other pair available for nomination is Shelly and Adam so they'll obviously be up on the block by the end of the day.
With Adam and Shelly on the block and Porsche in the HoH room this week that leaves only three votes: Kalia, Rachel, and Jordan. Rachel and Jordan have gone from certain eviction to holding all the power this week. Whoever they decide to keep stays and the other HG heads on to become the next Jury vote.
Flashback to 1PM BBT yesterday on the Live Feeds and you'll find Jordan and Rachel discussing their options for the week. They recognize Adam has flipped back over to the Newbies, but they know they can never trust Shelly again. Both agree that they'll need to keep Adam over Shelly. Jump to 1:50PM BBT to hear Jordan and Rachel let Adam know they want to work with him over Shelly, making him an offer he can't refuse. At least not on the surface.
The Veto ceremony should take place in a few hours and we'll have those Big Brother spoilers for you when they arrive. We're still a few days away from eviction, so anything could happen, but right now this looks pretty settled. What do you think about Rachel and Jordan's decision to keep Adam over Shelly?