The Big Brother Takeover this week brought in NFL's Rob Gronkowski but aside from there being no Have-Nots this week we didn't know what twist he'd be unleashing.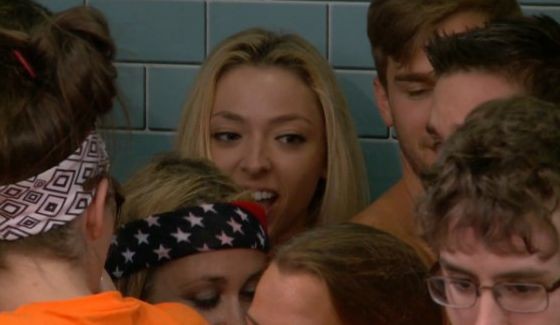 Now after an overnight streak of flash parties called in to action by Gronk I'm still not entirely sure what his twist is. Making HGs dance awkwardly to 5 second clips of music then steady silence? It's been a weird one.
So far there have been 4 5 separate events where Houseguests have to stop what they're doing and follow his instructions or they'll end up Have-Nots for the week afterall.
The first event started up at 8:53PM BBT as the HGs ran to all squeeze in to the shower for a little bump and grind. Makes total sense when you think back to all those 15 people in the shower stall parties you used to attend at college… Jeff wishes!
Second "Gronk Party" arrived at 11:41PM BBT as the HGs ran to get dressed for a toga party. It lasted a few mins as they danced around. Some of the HGs were better at making their toga dresses than others, but they all got the job done.
Next the HGs had to do a limbo party in the middle of the night. Flashback to 2:46AM BBT as the HGs dance around for a few seconds of music and then keep going to silence. I'm guessing they need the silence for recording the footage.
The last of the overnight events was a hot tub party that arrived at 7:21AM BBT this morning. Houseguests had to run to get their swimsuits and then hit the hot tub for some wild fun. Not really. They just say there and waved their hands at the occasional few seconds of music. Who knows.
Then as I was writing this up another Gronk Party hit. This time it was a conga line and the HGs were anything but thrilled to do this one. It was 11:20AM BBT when HGs were woken up and rushed outside. They shuffle along looking like something out of The Walking Dead before Big Brother finally tells them stop and to get up for the day.
We're not sure how much longer these Gront Parties will continue of what's even the point. It's obviously just silly footage so far at this point, but maybe it leads to something like Kathy Griffin's phone calls were all silly except for one important call. I'm doubtful at this point though.
twitter-tweet" lang="en">

The horror. The horror. #BB17 pic.twitter.com/Eq6tbwjE7w

— Big Brother Network (@bigbrothernet) July 12, 2015