Sunday night's episode of Big Brother 17 gave us a lot of Twin Twist action, some proof that some people aren't very good at Big Brother and zero Becky.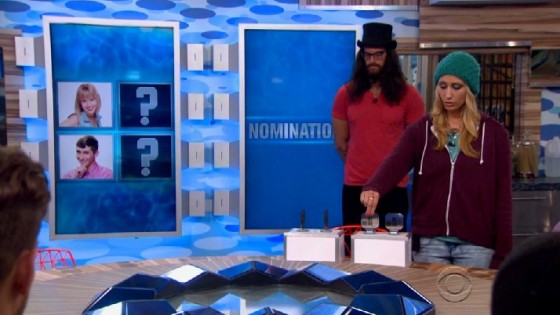 Seriously, where was Becky? Did she get to go home and visit this week or what?
Anyway, the episode picks up right after the Head of Household competition. Austin tells us that Audrey is the target, but "Judas" might have another plan. Audrey is aware that she is an obvious target, as well.
But let's back up first. Vanessa and Liz, er Julia, are laying in bed talking about the rumor that Liz is a twin. Julia tells Vanessa that it is true and that her name isn't Liz, but Julia. Vanessa doesn't find this as bad news, however. She's excited to have an additional ally. Vanessa goes to tell Shelli and Clay, hoping to get their support with protecting the twins. And they also think it's good.
None of these people seem to realize that an extra person in the game will be one more person they have to get out later. AND that probably means there will be no returning juror. I'm not sure why they all think the twins are a good thing.
Now it's time to tell Austin. He had never even heard the rumor. So when Vanessa tells him, he's truly shocked. He gets truly confused but thinks that explains why his connection with Liz comes and goes.
Nominations discussions start. Meg, Jason, James and Jeff are concerned about who Austin and Vanessa will put up as pawns in order to get to Audrey. IF that's still the plan … Oh, it's not.
Cut to Vanessa and Austin and they decide that Audrey shouldn't go anywhere because she will be a bigger target than them. So they're talking about Jeff, James or Jason being the options, but are leaning more toward Jeff.
But before we get to the nominations, let's get like 20 minutes too much on the FAILED twin twist. We get to see the 8th switch and how Austin, Vanessa, Liz and Shelli are excited to add another person to stand in their way of the $500,000. Elsewhere, we've got Jeff, John and James trying to figure out if Liz really is a twin.
Back to the task at hand. Vanessa and Austin, who is proven to be really bad at this game, talk about who to nominate. And of course the Battle of the Block competition means it's pawn after pawn after pawn. So enter Johnny Mac. AGAIN. Just like last week, Vanessa tells John that he will go up and if he throws it, then they'll keep him safe until one week after jury or something. Blah, blah, blah.
It's time for the nomination ceremony. Austin went with pawns Meg and Jason. Vanessa went with target James and pawn John. Jason and Meg are not happy. John makes a joke out of it and James reads something written for him to say and to be honest, I can't remember what it was and it's not even important. Oh and Audrey is still worried that she's going to get backdoored.
Let's get to this Battle of the Block to find out if Austin and Vanessa's plan can be fulfilled. This competition is a foam party/maze/hunt competition. And Meg and Jason are ready to fight and John is ready to throw it and hope James can't win on his own. No worries there, though, because James was so horrible at the competition, John didn't have to throw it. Kind of like last time.
So Meg and Jason win the Battle of the Block with ease and Austin is dethroned. So Vanessa remains HOH and James and John are still on the block going into the veto completion coming up on Wednesday night's episode.
Click images to view larger