For the better part of Saturday night, Vanessa Rousso scrambled to source a justification for targeting Jeff Weldon over general house favorite Audrey Middleton. She wanted to be ready, just in case.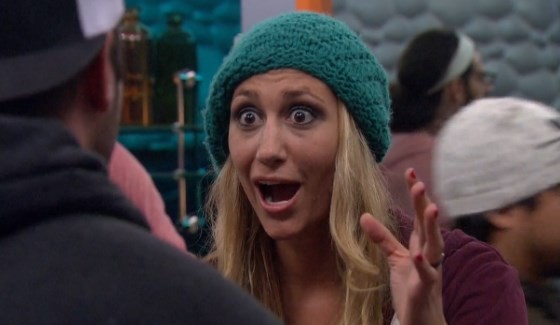 Once the Power of Veto competition was complete Vanessa moved quickly with greater urgency to shore up a plan and rally support to put another target on the Block.
For whatever reason Vanessa wasn't comfortable going with "you're a threat, Jeff." She wanted something to pinpoint as cause for her going back on promises to several HGs that she'd be renoming Audrey given the chance. We saw her panic when John won the Veto and it only got messier through the night, but it looks like she pulled it off.
Earlier in the evening, Flashback on Live Feeds to 6:35PM BBT to find Vanessa, Shelli, and Audrey in the HoH room. Vanessa is pressing on Audrey to generate one of her patented lies to help cover the story of Jeff going up instead of Audrey. At one point Shelli remembers Jeff said after the Meg-Audrey fight that if Audrey didn't go up they'd come after Vanessa. This doesn't hold long enough for Vanessa though as she wants something bigger.
Eventually Shelli tells Vanessa that if she wants to put up Jeff then just do it and not be worried, but Vanessa refuses. She won't budge until she has a good reason. Lucky for her, things come together late at night.
After talks with Vanessa we see Austin working on Jeff trying to keep him for taking up the torches to march against the HoH. Austin promises to try and work to keep Jeff safe, but this doesn't last long. Flashback to 2:55AM BBT.
Vanessa gives Austin a nudge and soon he's going after Jeff for her. Flashback to 4:35AM BBT as we've got Austin digging in to Jeff while Shelli, Jeff, and James watch along. Austin is telling Shelli & Clay that Jeff wanted Shelli out and he didn't trust them as a couple.
Few minutes later Vanessa arrives and steps up in to Jeff's face. It's a little aggressive but it doesn't escalate. Jeff is denying he was against Chelli and mentions something about Vanessa's alliance. She blows her top and says he was the one trying to start an alliance with her.
The crowd thins out leaving Jeff to do damage control with Chelli who don't believe what he's telling them anymore. Flashback to 4:40AM BBT. Jeff admits he said some of the things about not trusting them as a couple, but promises it was just to play along with Vanessa and Austin.
Everything is a mess right now and most of the house already figured out that Vanessa wasn't going to put up Audrey. Instead of just going with a "you're a competitive threat for me" Vanessa has generated an overly complicated thread that I don't think most of them believe anyway. Jeff later pointed out that all of Vanessa big fury moments right now are over things that have nothing to do with her. Nothing.
All the same, Vanessa feels her job is done and there is sufficient justification for Jeff to go up on the Block against James during Monday's Power of Veto meeting. We'll have to wait and see who becomes the target, but Vanessa continues to insist James is her preference for eviction.
What do you think will happen? Is Vanessa going after the targets this week?