The dust has settled from Thursday's Double Eviction on Big Brother 16 and after a new HoH was crowned late last night we can now look ahead to the next round of nominations. Well, until that new twist undoes the whole thing.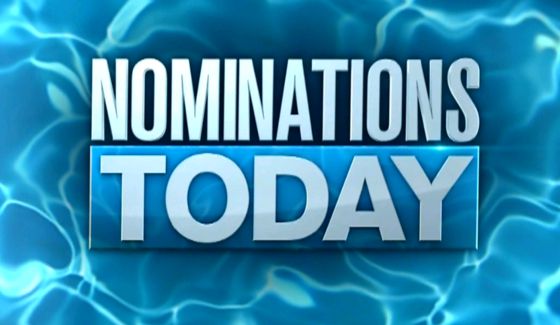 When the Feeds returned from the Head of Household competition, which once again ran well in to After Dark, the HGs were racing to the new twist room. Their conversations focused first on how to handle this giant golden button while nominations still lingered in the not far distant.
There aren't many choices left for nominations this week on Big Brother and the new HoH, Frankie, knows he will have to put up at least one of his own allies. So who will it be?
Flashback to 10:57PM BBT 9/4 as Frankie meets with Derrick in the Storage room soon followed by Caleb. Frankie tells them he wishes he could use Skittles again to decide the nominees. Seriously. Both Derrick and Caleb are certainly trying to avoid going up which leaves Frankie with the two options he'd need.
Frankie says that both Caleb and Derrick have kept him safe twice each while Cody has only done it once. He supposes that could be his rationale though he adds that maybe he should say something about trust. They advise against that.
A half hour later Frankie confirms to Derrick that he's going to put up Victoria and Cody, but he (Frankie) might suggest he's considering Derrick since he's never been on the block this season.
Then again as the HGs wind down for the night Frankie tells Derrick and Caleb that he's planning to put up Cody with Victoria. Frankie tells them what Cody has been told so they can be prepared for conversations and still act a little surprised or uncertain.
Frankie tells the guys that these nominations do not have anything to do with next week's planning since with so few HGs left it's most likely that they'll all be taking a turn on the block. Frankie says if he has to do a renom then he'll flip a coin between Derrick and Caleb.
So there you go. Later on Friday the nominations will be revealed as Cody with Victoria.
Oh, but wait. Remember that "Big Brother Rewind" twist button? Yeah, well they pushed it. Frankie's idea. This entire week won't matter and these nominees can't be evicted. At least not until they redo the whole thing.