After a fast paced roll of the first "infections" for the opening HoH competition on Big Brother Over The Top things have slowed a bit without any overnight passing of the BB Bug. So who is left and could win this comp?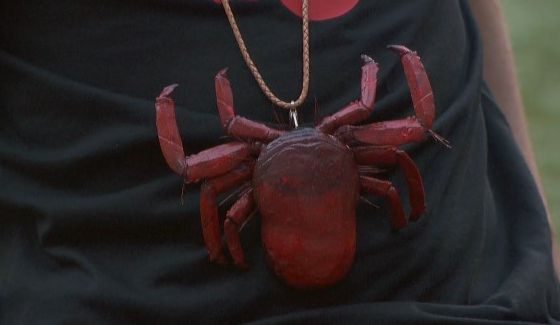 As of now, only five Houseguests remain in the running and two of them have already been set as the next targets to be given the bug, infected, and knocked out of the challenge to be crowned the first Head of Household for BBOTT.
Before things started to wind down for the night Morgan was holding the BB Bug when the discussion came up for the next HG to be infected. Flashback to 11:24 PM BBT 9/29. She spoke with Monte, Alex, and Cornbread and expressed uncertainty over what to do. Earlier Cornbread had advised her to target Jason, but that suggestion must not have taken hold. Time to take matters in to his own hands.
Cornbread offered to take the BB Bug and when that transfer happens he will no longer be eligible for this week's HoH. His plan though is to pass it off to Jason, one of the last four HGs to not be "bit" by the bug just yet.
If CB does get the Bug next and then makes that move against Jason then we'll be left with Alex, Monte, and Whitney. In a late night talk with a new forming alliance, Jason seem to suggest to his allies (Justin, Scott, Kryssie, and Shelby) that he'd pass it along to either Monte or Cornbread (Flashback 4:44 AM BBT 9/30). Since it sounds like the Bug will be coming to Jason from Cornbread that'd leave his only option as Monte. It wasn't quite a direct commitment, but he seems to suspect Cornbread and Monte are angling against him.
So from there if Jason does get the bug next and hands it off to Monte then we'd have a woman as our first HoH of the season with either Alex or Whitney. Now earlier in the evening those two said they'd go after Jason because he's a Vet and coming in with an existing fanbase, something that's dangerous for the newbies with a season centered around fan voting.
The HoH comp will wrap up at 1PM BBT (4PM ET) so that leaves us with three more BB Bug hand-offs between now and then so keep watching your Live Feeds to see what happens next. We'll continue to update our HoH comp spoilers post with the results as they happen.
Who do you want to see win this BBOTT HoH comp and become the first Head of Household?