The very first night of Big Brother Over The Top delivered a quasi-alliance but that may have been more of a trial run ahead of the first HoH. Now after the second night we've got the first packaged, sealed, and named alliance thanks in part to Jason Roy's efforts. But there's an overlap between the two groups. Hmm.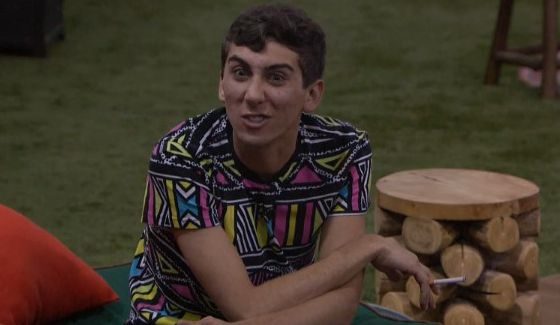 On the very first night we watched as Monte, Shane, Cornbread, and Scott decided to watch out for each other's backs and work together to try and win the first HoH. At the time the talk was a little bit loose and no one seemed to want to commit to the group too fast. The second group however, sped right along.
You can watch the guys' group discuss their semi-alliance on the Live Feeds Flashback 4:50 AM BBT 9/29. The talk there is that they don't quite trust Justin but instead of alienating him they'll keep him for fodder. There's no naming or shakes to finalize and formalize their group.
Now the next alliance came along last night and includes Justin, Kryssie, Shelby, Jason, and Scott. Yes, the same Scott who is in the guys alliance-non-alliance. Hmm. You can Flashback to 4:40 AM BBT 9/30 Cams 1/2 to watch their group discussion.
Jason thanks the group for keeping him sane and easing his worries over being targeted as the only Vet. He points out they can really use his help as he is the only one in the group who has not yet been infected by the BB Bug (5 HGs remain uninfected since last night). Well that won't last for long with the Bug just two steps away from likely arriving on Jason's front door.
The 5 Houseguests here decide to call themselves the OTT Jamboree (Kryssie points out it rhymes) and they do an all-hands-in move to make it official. Move things along a few minutes and here comes Cornbread, but none of the 5 mention anything about including him in the deal.
Jump forward to this morning and we've got Cornbread speaking privately with Shane in the Storage room. Flashback to 8:40 AM BBT to watch. CB lets Shane know he found the group of five talking last night and that Scott was there with them. CB sounds concerned but Shane suggests Scott can still be trusted and is likely playing the other group to bring them info.
Shane and CB agree that maybe they shouldn't tell Scott everything though and that way they don't have to worry about him worrying about what to share back to this other group if there is something going on over there. CB suggests Scott should be the first of their four to go, but they'll keep him to F4.
So Scott could be a double agent here, but I haven't seen him confess this OTT Jamboree group to his original group yet. The day is just getting started though so we'll see what happens next.
Considering Shane and CB (and probably Monte once Shane reports to him) are looking to put Scott on the outskirts of their group then Scott might actually have a better shot of things with the OTTJ group than these three guys. Still very, very early to know either way though.
What do you think of these first two groups? Which way would you go if you were Scott? Do you really think the OTTJ will keep Jason safe if he becomes the top target this week?
Update: Scott appears to have picked a side. Flashback to 10:20 AM BBT Cams 1/2. It's Shane and Scott in the Storage room. Shane asks Scott if he got good information from Jason last night. Remember that CB saw Scott out there and reported that back to Shane this morning.
Shane asked if their 4 was still good and Scott says it is. He reports back that Jason said he wanted to keep Shane, Monte, and Danielle around to let them be targets naturally in a few weeks but that he didn't mention CB. Scott says even if CB becomes a target then they'll have several votes to help keep him safe if he goes up on the Block.
Looks like Scott might want to stick with the stronger guys alliance/group than go with the island of misfits instead.